Millburn / Short Hills
Livingston
New Providence
South Orange
Madison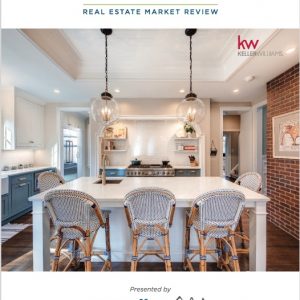 Dear Neighbor,
It is once again a pleasure to share with you our team's annual review of the Mid-Town Direct Train Line residential real estate market and surrounding towns. With 2019 now concluded, we have conducted an extensive analysis of the state of the market over the past year, as well as gained further insight into the trends for 2020. The following is a comprehensive overview of the market, including a breakdown of each town by price bracket, to give you, the local homeowner, a true sense of the real estate market. With that, we wish to provide you with a greater understanding of the value of your own home. I hope that you find this information useful and that you will share it with your friends and family.
We are happy to report that the demand for our core towns — Millburn, Short Hills, Summit, Chatham, South Orange, Maplewood, New Providence, Madison, and Livingston — is still strong. This is due to the easy access to New York City, our top-ranked public-school systems, and beautiful close-knit communities.
Much like in 2018, we noticed that the entry-level and lower-mid market price points continued to serve as the strongest segments, while the upper-mid and luxury markets lagged behind. However, the luxury homes that sold during this market shift were well-prepared and competitively priced for the market. Between the high-end market compression, and "tear down" pricing not following the same correction, luxury home builders were not as eager to purchase "teardowns," but opted instead to focus on 2 or 3 smaller projects. As this trend continues, we expect to see a lower inventory of luxury new-construction homes, and more entry to mid-level new construction, in 2020.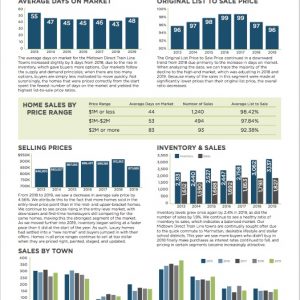 Despite the SALT tax law changes, our towns continue to attract more buyers than the towns in Bergen County, Westchester, NY, and Connecticut, because our tax basis is lower. Still, for buyers looking to purchase in our towns, homes with higher property taxes have been, and continue to be affected, as buyers have become increasingly cost-conscious. If you are concerned that your assessment may be high, you have until April 1st to file for an appeal and our team works with experienced attorneys who are ready to help.
In 2019, inventory levels rose by 2.4%. This is, in part, due to empty nesters who no longer benefit from the schools and in turn continued to put their homes on the market as they opted for a lower cost of living. "Empowering through Education" is one of our team's core values, so we launched our Home Selling/Prep/Staging Workshops in 2019 to best serve this growing segment of our market. I'm proud to share that 425 attendees have now walked away from our workshops with a more concrete plan to help them transition into the next chapter of their lives. We also launched our Downsizing Division, which you can read more about on page 7.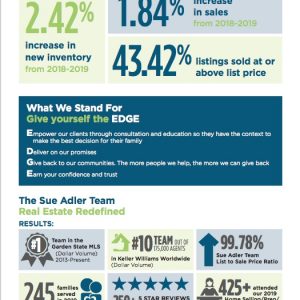 We saw upsizers recognize the opportunity provided by the evolving market. They were able to sell
their entry-level homes for top dollar and roll their equity into their dream home, taking advantage of the lower pricing and historically low-interest rates. We anticipate that this trend will prevail in 2020. With an increase of only 75 more sales across our towns, the number of sales remained steady from 2018 and 2019. The inventory increase was at a healthy level, as most homes did not languish on the market.
On a personal note, I am excited to announce that for the 7th year in a row, The Sue Adler Team was the #1 in Dollar Volume in GSMLS (covering Essex, Union, Morris Counties), #10 out of 175,000 Keller Williams agents worldwide, and now has 250 five star reviews. While our local market was down, our sales were up, and we are extremely humbled to have helped 245 families buy or sell homes in every price range in 2019. Big or small, we sell them all!
On behalf of our entire team, we are proud to live, work and serve in our warm and welcoming communities, and we are grateful for the opportunity to make a difference in so many lives.
Yours to count on,
Sue Adler
973-936-9129
vip@sueadler.com
Millburn / Short Hills
Livingston
New Providence
South Orange 
Madison