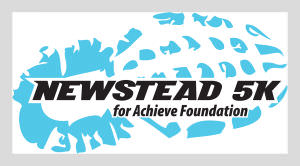 This September marks a milestone for the communities of South Orange & Maplewood as they gear up for the Newstead 5k race.  Celebrating its 10-year anniversary, the race benefits The Achieve Foundation of South Orange & Maplewood (www.achievefoundation.org) supporting public education for the school district of South Orange & Maplewood.
Each year the race has witnessed steady growth, greater notoriety and a stronger sense of community pride as the towns' residents and friends from local areas run to raise money to support our schools.  Now a decade later, the race has become a hallmark fall event in the South Orange-Maplewood community.
As our children are settling into their first month back to school, the timing each year is perfect.  Last year over 350 runners gathered and transformed the quiet streets of Newstead into a high spirited, bustling neighborhood.  Upbeat music, runners and volunteers create an exhilarating and energetic atmosphere.
Register early or on race day and be among the many who will wear the celebrated Newstead 5K t-shirt this coming September 22.  The race takes place at the South Mountain Annex – 112 Glenview Road in South Orange – and begins at 9 am.  The race features chip timing by Compuscore and there is also a 2-mile walk and a free kids' fun run.  Information on preregistration, sponsorship opportunities and more available on the foundation's website at http://achievefoundation.org/who-we-are-2/.
Help celebrate education one growing step at a time by participating in this year's race.  Our united strides will go a long way to assure leaps and bounds for our community's children.
Save-the-date, put on your running shoes and race to support our schools!