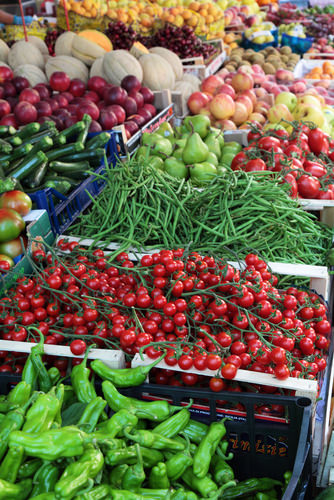 Hours: 8 am – 1 pm
When: Sundays thru Nov. 18th
Admission: FREE
If you're looking for local, seasonal produce and a taste of Summit's local fare the Summit Farmer's market is for you.  The market opens Sunday mornings at 8 am (Rain or Shine) and closes at 1 pm.  The vendors offer the freshest and most delicious products in the county.
In 2012, the Summit Farmer's Market celebrates its 19th anniversary. Throughout all these years, it has remained a popular and exciting Sunday morning destination for residents of our midtown direct towns.  At the Farmer's Market, tourists and locals are able to buy fresh, regional and local goods, such as specialty items, flowers, plants and organic products. In addition to local farms the market also features delicious menu items coming from different restaurants and specialty food shops  in the Summit area .  Just to name a few that you can expect to see Mangia, Pickle Licious, Paolo's Kitchen, Pizza Vita, and Taqueria Autentica will be serving it up fresh!
The Summit Farmer's Market also has a charitable component. It features a donation opportunity called G.I.F.T. or Give It Fresh Daily. Actually, this is a new, innovative and sensible initiative that was a real success among farmers and patrons at the market. Customers and visitors loved it too. Basically, the initiative means that individuals can donate products to the Give It Fresh Daily association. Its stand will be easily spotted at the market. All donated items will go to the non – profit organizations that supply food for the poor. In only one weekend, the association collected goods weighing 350 pounds. So far, they have accumulated 1,493 pounds of food and products. Marin Mixon, the Executive Director of Summit Downtown, Inc., declared that the organizers are thrilled and pleasantly surprised by the positive response to Give It Fresh Daily. The visitors love the initiative and are eager to donate to the association. It is indeed a season of generosity that will continue until November.
The admission for the Summit Farmer's Market is free. If you are a vendor and want to participate at the weekly market or if you simply want to find out more about the event, you can visit the official website of the Farmer's Market. On October 21, there will be plenty of vendors and products to choose from. There will be organic farmers like North Slope and Cherry Grove Farm or regular New Jersey farmers such as Vacchiano Farm, Race Farm, LL Pittenger Farm or Corner – Copia.