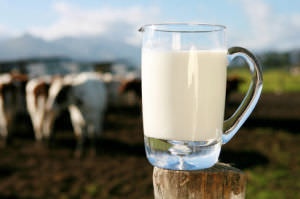 Remember the days of the old-fashioned milkman?  You'd wake up to fresh milk delivered right to your doorstep.  Well, everything old is new again.
Beginning last year, Green Market Dairy began a home delivery milk and dairy products service in New Jersey.  A family-owned business, Green Market works with a select group of small family farms to bring the freshest milk, eggs, and other dairy products each week to your home.
For our busy Midtown Direct families, it's a great way to make sure we are eating Jersey Fresh with the added convenience of doorstep delivery.  The milk, delivered in glass bottles for a unique freshness, comes from cows given the highest quality holistic care.  Delivered within 24-hours from local farms, it's fresh, wholesome and delicious.  Kids will love the chocolate milk and the entire family will marvel at the rich creamy assortment of yogurts.  Even the breads are baked by artisan bakers using all natural ingredients for great taste and texture.  Not to mention the nostalgic old-fashioned milkbox placed by your front door for safe pickup and delivery.  You'll never run out of kitchen essentials from milk to eggs to bread.
Green Market Dairy owner, Ryan Richter, puts his heart and soul into offering personal attention to each and every customer.  No order is too big or too small.   "I started this business a little over a year ago and we continually strive for better ways to provide the highest quality products and service.  Our mission is to make it possible for New Jersey families to eat smart and healthy without having to make multiple trips to the food store each week.  In our face paced world, this is often very difficult — Green Market Dairy can make it happen," said Ryan Richter.  "We are ever so grateful to our loyal customers, the source of our continuous pursuit of excellence.  Thank you for your trust."
Then there's the added benefit of shopping online with a weekly delivery reminder.  Today's health conscious Midtown Direct residents should visit their website, and check it out.  It's a throwback to our pasts with a modern twist.