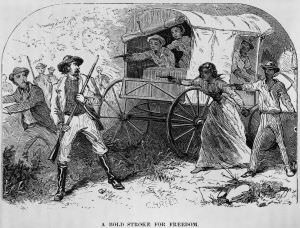 The Visual Arts Center of New Jersey in Summit recently earned a grant from the New Jersey Council for the Humanities, a state partner of the National Endowment for the Humanities. The grant will fund the installation, illustrated catalog, and related programs surrounding the exhibition by New Jersey artist Casey Ruble: Everything that Rises.
The show, which will be on view September 20 through January 17, will focus on transgression, memory, and the significance of place. Fifteen paper collages will be on display, showing two types of sites in New Jersey: former safe houses of the Underground Railroad and the sites of race riots.
To the undiscerning eye, these historic landmarks –scattered throughout the state — appear to be ordinary, even invisible. They're disguised as abandoned buildings, hair salons, vacant fields, restaurants, houses. Even the sites that haven't changed, such as Newark's police headquarters on 17th Street and Irvine Turner Boulevard, leave little trace of their charged past.
Art Center Executive Director, Melanie Cohn, said of the grant and exhibition, "We are proud to receive this support from the New Jersey Council for the Humanities. The grant allows us to organize this exhibition where important, and sometimes forgotten, sites of African-American history will be portrayed and discussed."
Visitors of the exhibition will be able to access historical information about the art and the sites through links on their smart phones. These links will provide information about the pictured sites, as well as corollary material such as slave narratives, maps, music, photographs, literature, and filmed news footage. In addition, a series of programs will be available for the public, featuring notable scholars specializing in issues of slavery, civil rights, reconstruction, and contemporary race relations.
For more information on the Art Center's upcoming Fall 2015 Exhibitions and Programs visit www.artcenternj.org/programs.