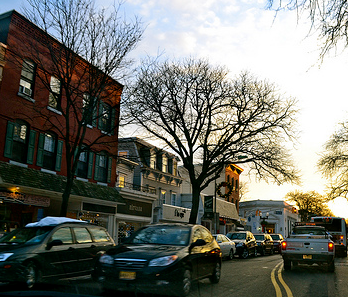 Westfield NJ is a community that maintains a deep connection to its past and can trace its history all the way back to 1720.  With a vibrant, historic downtown district, a library dating back over 140 years, a living history museum, and several memorials and monuments dotting the town landscape, Westfield is certainly a place where the past can still be meaningfully felt today.
The Origins of Westfield
The old village area of Westfield was originally settled in 1720 as part of the Elizabethtown Tract.  This area roughly aligns with the present  downtown district.  Westfield officially became a township in 1794 and was comprised of several portions of Elizabeth Township.  At that time the area remained part of Essex County.
In 1798 Westfield was incorporated as a township and included in New Jersey's original group of 104 townships by an Act of the New Jersey Legislature.  In 1857, Westfield joined the newly created Union County.  Throughout the years, portions of Westfield were taken to form other townships, namely Rahway Township, Plainfield Township, Cranford Township, Fanwood Township (Scotch Plains), Mountainside and Hillside.  Westfield officially became a town on March 4, 1903.
Historic Downtown District
The history of Westfield can be felt in the historic downtown district.  Of the more than 200 restaurants and shops downtown, over one-third of them have been in place for 25 years or more.  Those same stores you may have browsed as a child can still be visited well into adulthood, and you can share your memories of your favorite places with your own children.
The Downtown Westfield Corporation works to preserve the historic character of the commercial district by participating in the National Main Street Program which is associated with the National Trust for Historic Preservation.  To that end, in 2004 Westfield won the Great American Main Street Award from the National Trust, cementing its status as a viable and vibrant historic destination.
Westfield also continues to honor its former citizens with several memorials and monuments, many of which are found in the downtown district.  The Korean War Memorial, the World War II Memorial, and the Spanish-American War Memorial are all located in a plaza near downtown.  In addition, a new Memorial Park was built to pay special tribute to Westfield residents who died on September 11th, 2001.
Westfield Memorial Library
For a real taste of Westfield history, head to the Westfield Memorial Library.  The library was founded in 1873 as the "Every Saturday Book Club" and has evolved over the years into the cherished town gem it is today.  The library has a collection of over 250,000 books and offers programs and classes for both adults and children.
Miller-Cory House Museum
The historic Miller-Cory House is a wonderful destination to learn about the history of Westfield.  Construction began on the clapboard farmhouse in 1740 and was completed in 1782.  Today, the Miller-Cory House is nationally recognized as a living museum.  It is a certified historic site and has been entered on both the State and National Registers of Historic Places.  Guided tours are available.  For more information please visit http://westfieldnj.com/mc/home.htm.