The #1 Real Estate Team in The State of New Jersey is Hiring Talented, Hardworking, Career-minded individuals looking for the opportunity to have a career worth having, a

business worth owning

, a life worth living, an experience worth having, and legacies worth leaving. 
WHY US?
Keller Williams Realty Premier Properties is hiring licensed sales associates to join the #1 Keller Williams Team in the state of New Jersey The Sue Adler Team. We have been the No. 1 Keller Williams Team in New Jersey for ten years running, with an average price point of $995,000 and yearly dollar volume of $200 Million+,  putting us as the #1 TEAM IN NEW JERSEY for the past three years and consistently top 10  in the country for Keller Williams out of over 140,000 agents. Sue was named one of Inman's 100 Most Influential Real Estate Leaders for 5 years and our team receives referrals from agents all over the world.
Our culture is all about creating opportunities for ongoing professional and personal growth through training, helping you reach your goals through mentorship, weekly one on one productivity coaching. and our empowering "team advances". We also care deeply about the communities we serve and our success becomes the success of the community through our Annual 100th Home Sale Charity Program.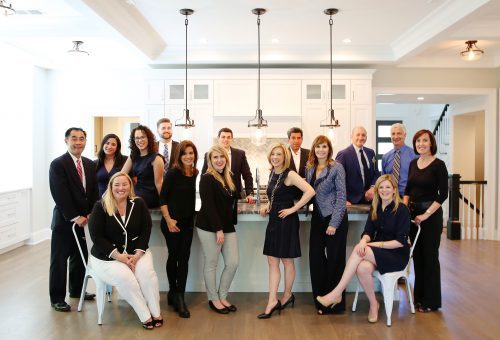 Position #1 : Career Minded Full Time Realtor Associate
Keller Williams Realty Premier Properties is hiring licensed sales associates to join the #1 Keller Williams Team in the state of New Jersey The Sue Adler Team. This is an excellent long-term opportunity for a highly motivated dedicated person, to join the #1 Keller Williams Team in New Jersey, with great potential for advancement. Please only apply if you have a strong work ethic, local area knowledge of the the Mid-Town Direct train line towns, are learning based, and are committed to superior client service and market mastery.
You'll receive world-class training and productivity coaching from Sue Adler Team, access to our amazing support staff, lead generation and all marketing; the opportunity to grow to new levels within the team,  Because you will have access to our lead generation & great follow up systems, you will opportunity to make well $100,000 a year without any expenses.
Qualifications and attributes of our team's agents include:
• Ready and willing to commit to 3-4 hours of daily prospecting & lead nurturing – you bring a strong work ethic to convert our team generated buyer leads into sales as well as prospecting to generate your own pipeline.
• Phenomenal follow-up and phone skills are a must!
Learning-Based – Absolute dedication to self-improvement through education, coaching, and accountability
• Team Player – Commitment to the goals of the team, its members, and our clients
• Current real estate license
• Local knowledge of the Midtown Direct Train Line towns is a must!
• An impeccable reputation for integrity in the real estate community.
• Possess a deep passion for above and beyond service and advocacy for clients.
• You are warm, approachable, personable and comfortable with meeting new people & building new relationships.
• Minimum 1-year experience as a Realtor or successful track record in another sales role.
We are currently interviewing candidates, so if this sounds like something you would be interested in, and you are a fit, please email your resume along to opportunity@sueadler.com. If chosen you will be a licensed agent with Keller Williams Premier Properties.
Position #2 : Inside Sales Associate  
The Sue Adler Team is currently hiring for an Inside Sales Associate to work alongside our listing agents and buyers agents to find homeowners looking to sell. We are the top residential real estate team in the state of New Jersey and #8 internationally for Keller Williams. This year we are on track to close 200 transactions in 2017 and we are looking to grow even bigger to take it to the next level in 2018!
You must have exceptional phone skills and a passion for phone-based sales, enjoy making 125+ calls a day, and be the type of person who gets excited every time you set an appointment and uses rejection as a motivator to find greater success. You have a fire in your belly and you don't give up. You are looking for a long-term career not a part-time job. You would be described as "tech savy" and like to learn things as you go. You're extremely organized with great follow up skills and hate to let things fall through the cracks. You come off as genuine and intelligent, are great at instantly developing rapport and you have a strong track record of closing. You look at a challenge as fun and understand that it may take several "no's" to get to a YES!
Candidate must live within a half hour of Short Hills NJ, and be able to commute to the office. Candidate must also be willing to get their New Jersey real estate license. Competitive compensation plan includes Salary + Bonus on closed transactions. With a solid work ethic, the right candidate can make 6 figures.
We are currently interviewing candidates, so if this sounds like something you would be interested in, and you are a fit, please email your resume along to opportunity@sueadler.com.
Position #3:  Administrative Assistant 
We are looking for skilled and tech savvy self starter to add support for NJ's top real estate team. Our fast-paced organization has a lot of moving parts. We are a learning based, technology driven organization that rewards self-starters and innovators.  We are looking for a talented Administrative Assistant to support our Director of Operations and Listing Success Team in all systems and processes. This position offers exciting growth potential based on performance.
What You'll Do:
Provide Support: You will provide general administrative support to the office, specifically for the Director of Operations and Listing Success Team.  This includes answering phones, filing, organizing, database management , setting up workflows, drafting correspondence, calendar management, transaction coordination
Listing/Transaction Coordination: Assist in overseeing listing files and listing marketing which may include but limited to: preparing buyer's packets, creating marketing piece (flyers, e-blasts, brochures, online marketing), etc., keeping showing feedback spreadsheets up to date, setting up showings with homeowners
Serve: You will provide world class, concierge-level customer service to clients and agent partners by serving as the first point of contact in handling client inquiries.
Office Manager: You will be the point person for all things in our amazing new office in Chatham. Making sure that supplies are stocked so we can continue to run at the highest level possible.
Agent Services: You will work with our amazing agent partners making sure packets are printed, forms are available and helping them throughout the work week to complete basic tasks. You will serve as their support system.
Errands: While most of your duties will require you to be in the office, you will be asked to run errands and possibly check on current listings.
Own It: You will play a significant role in the success of the business and will take on this responsibility with a sense of ownership, commitment, honesty, and integrity.
Who You Are:
Committed: Its just not about a 9-5 job for you, its about doing what is needed to get the task done, and done right. You take pride in your work and are committed to the high standards of the team.
Grit: You don't give up. You are the type of person who learns from failure, keeps your head in the game, and always keeps pushing the bar higher.
Industry Experience and Education: You have at least one year of prior experience working in real estate and/or office administration.  You LOVE to learn new things and are open to new ideas and love systems (Designing them and using them). You have at least two years of higher education experience (Bachelor's Degree is preferred).
Tech-Savvy: You have the aptitude to learn new programs quickly and able to troubleshoot common issues. You are a solution oriented person, who can quickly find solutions to your problems. Skilled with systems such as MS Office Suite, Google Suites, internet, social media, aptitude to learn and use other systems.
SUPER Organized: You pay attention to the smallest detail and are able to juggle multiple projects efficiently all while staying focused and keeping a smile on your face. You excel at following up and following through and love checklists. You have the ability to assess, prioritize and act quickly.
Perfectionist – within reason: You like things done the right way. You operate with a high level of professionalism and present yourself as such.   You also understand the importance of meeting deadlines and you are able to balance your perfectionist tendencies with the need to move projects along quickly.
A People Person: You know people. You know how to effectively communicate with people, are solution-oriented, and can Keep Calm and Carry On.  In a world of non-listeners, you take the time to listen and empathize well with others in order to build long-lasting, quality business relationships.
The ULTIMATE Team Player: You know that your strengths are best utilized in a supportive role and value the importance of having a strong team. You are open and eager to learn new things. You are willing to work 40 hours per week with evening/weekend flexibility.
Client Centric:  You love to go above and beyond for clients,  creating a "wow" experience.
*Required: Candidates must have no more than a 30 minute commute to/from Chatham. They must also have a reliable form of transportation and are licensed and insured.*
The Details:
What You Earn: Your salary will be competitive and based on your prior experience.
Where: Chatham, NJ
When: Full Time.  Some flexibility on nights and weekends required.