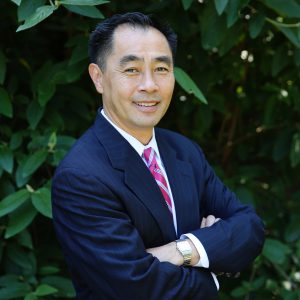 One of life's golden rules is to treat others like you want to be treated. For Dennis Byun, it's also a business maxim. A professional in every sense of the word, Dennis came to the residential real estate industry after a career in consulting. Clients routinely have praised Dennis for his patience, expertise and his ability to smoothly oversee all aspects of the transaction. We recently sat down with Dennis to ask him a few questions.
You have had the opportunity to live in many areas throughout the United States.  Which area have you enjoyed the most and why?
I have enjoyed every place that I have lived in and can't choose a favorite.  I grew up in Southern California and still miss the weather.  All my childhood memories are from there.  Whenever I go back to visit, I feel as if I were 9 years old again.  I spent most of my 20's living in Chicago.  I grew a lot as a person and in my career there.  It is a beautiful and friendly city.  If you can survive the winters, it is a wonderful place to live.  My wife grew up in New Jersey and most of her family live here.  We chose living near family for the free baby-sitting.  Now we have the opportunity to raise our two beautiful children here, near their grandparents and cousins.
Prior to your real estate career, you have and extensive background in healthcare finance. What attracted you to the real estate industry?
Before I entered the real estate industry, I spoke with several friends who are Real Estate Agents.  I wanted to get their honest input about a career in real estate.  I recall what one of them said to me that day.  He said that being an agent isn't about driving strangers around town and unlocking doors for them.  Beings a great agent is about establishing and maintaining relationships.  It is about negotiating for your clients.  And most importantly, it is about being persistent.  These challenges described to me were what attracted me to real estate.
I feel my previous career in healthcare finance has prepared me for the real estate industry.  Most of my positions were autonomous where the end goals were described but how I get there was not defined.  Going through this kind of experience has made my transition into real estate much easier.
What have you learned in your real estate business that you weren't taught in business school?

In business school, we read many case studies on corporations.  There was a big focus on solving problems companies were experiencing.  How do we increase production?  Should we consider a merge or a leverage buyout?  Why has labor costs increased more in proportion to profit?  There wasn't much discussion regarding dealing with individuals like in real estate.  For most people, their house is their biggest asset.  The process of purchasing or selling their home can be very stressful.  Sometimes you need to remind them to breathe.
How do you believe that you differentiate yourself  from other Real Estate Agents?
I have been fortunate to meet some really talented Real Estate Agents throughout my career.  From each of these agents, I was able to recognize their strengths and try to incorporate them into my skill sets.  But at the end of the day, I also need to be true to myself and establish my own style.  I have treated my clients the way I would like to be treated.  In doing so, I have always put my clients' best interest first, provided constant communication throughout the process, and have connected them with local specialists (mortgage advisors, attorneys, home inspectors).
Can you give an example of when you have gone above and beyond what a client expected from you?
I had clients where both the husband and wife recently graduated law school and they were offered positions in the area.  They had one free weekend in the summer before starting their new jobs in the fall.  I sent them a list of possible homes to see.  I picked them up at the train station and we managed to see eight homes that Saturday, and we even got the opportunity to squeeze in lunch.  Afterwards, I dropped them off at their hotel and picked them up again the following day.  We saw four more homes.
Ultimately, they loved one of the homes (the third one we saw) and our offer was accepted.  I recommended an attorney for them, handled the home inspection, and followed up on all repair issues.  Since my clients were out of state, providing them constant communication was more crucial than usual.  They arrived the day before the closing to complete the walk through.
These clients have been kind enough to refer me to their friends, who I have also helped find their new homes.
You are actively involved in the community,  What have you learned most in your volunteer positions? How have these roles helped you in your Real Estate career?
What I have learned most from my volunteer positions is everyone comes with their unique personality.  Dealing with the different personality types has been the most challenging part of volunteering.  But I have always focused on the main goals of the group.  It is very similar in real estate.  I meet all types of people.  My job is to serve my clients and to represent them to the best of my abilities.
To contact Dennis Byun and The Sue Adler team, call 973-936-9129.