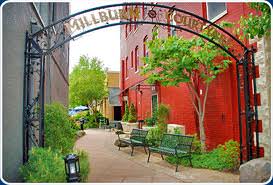 I have traveled to many marvelous places, but some of the most special and memorable ones have been those spent right here at home in Short Hills.  I'm Amy Gotsch, one of Sue Adler's team members, and I thought it would be fun to share a great day in my hometown so I've put together some cool, trendy places that brighten the days and keep us all coming back for more.  Millburn/Short Hills are wonderful communities in every sense of the word.  Two towns that have it all – dedicated residents, magnificent homes, top-notch schools and a hop, skip & a jump to one of the world's greatest cities – New York.
Every day — whether you're a stay-at-home parent or go off to work — starts off better when you're energized.  A good work-out does wonders for the mind, body and soul.   Millburn/Short Hills offers some of the best fitness facilities around.  There's Flywheel for indoor cyclists, Bar Method in nearby Summit for a targeted body-sculpting workout or Can Do Fitness for a little of everything.   Racquet enthusiasts head to the Racquet Club of Short Hills where there's tennis, paddleball, squash and many other social and recreational activities.  Grab an energy shake and you're off feeling ready to tackle Mommy mode or your first client meeting.  Coffee lovers head straight to Rockn' Joe for the perfect morning brew.
Shopping in our towns is a real treat with downtown Millburn and its host of boutique and specialty stores.  Make holiday shopping easy and take a stroll down Millburn Avenue where you'll be sure to cross many gifts off your holiday shopping list.  One of my new favorites is Seed 387.  The delightful aroma and rooms of electric home, body and novelty items are simply scintillating.  This time of year we are always searching for the perfect hostess gift – look no further – Seed 387 offers plenty to choose from.  The Short Hills Mall is spectacular with holiday decorations and a festive atmosphere that will put the holiday spirit in us all.
We all get that midday craving or think about that second cup of coffee.  No wonder the line at the recently opened Red Mango keeps getting longer and longer.  Rated #1 by Zagat's, the frozen yogurt and smoothies are addicting.  Millburn is full of really great places to dine.  Casual or elegant, we have it all.  I'm a big fan of The Salad House for a quick make your own salad.  It's healthy and consistently good – I can mix and match different combinations depending on my mood that day, a perfect lunch.  And you have to try the Cali, better known as the Sue Adler combo at the Millburn Deli.  The latest buzz is Ma Maison Brasserie offering French style cuisine located within walking distance to its sister restaurant, Luna Cafe.  Both are cozy, delightful additions to the many great dining establishments in our towns.
I have to admit as far as new favorite places in Millburn/Short Hills, I am big fan of Trader Joe's.  It's a fun food shopping excursion with Trader Joe products made for every season and holiday.  And the best part is you come out feeling like you didn't break the bank for a few bags of groceries.  We're lucky to have them here.
Finally, relax, put your feet up and take in a play at Papermill Play House.  The classic musical "Sound of Music" is playing through December 30.
Meet a friend or enjoy some alone time – there's so much to see and do in our amazing towns.