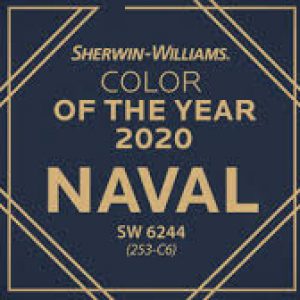 Twenty years ago, the Pantone Color Institute began a tradition that's become ubiquitous across the paint industry: The Color of the Year. Considered to be the governing body on color, every December, following an analysis of color trends that have occurred throughout the year with special attention paid to colors that have appeared in branding efforts, Pantone selects a Color of the Year.  The chosen color tends to have an influence in the world of design and brand marketing, and so sometime shortly thereafter, consumers will start seeing clothing, appliances, interior décor items and other consumer products that were designed by companies with the color in mind.
Since naming it's first color of the year in 2000, other companies have followed suit. And although Pantone won't make its announcement until December, several paint companies, including Behr, Benjamin Moore, and Sherwin Williams, already have. Unsurprisingly, they're all very different.
Earlier this month, Benjamin Moore announced "First Light" as its 2020 Color of the Year. Symbolizing an upbeat and hopeful start to the new decade, First Light is the first time that a pink hue has been chosen by the company as its Color of the Year. It also represents a pivot towards expressive and more saturated colors, especially when compared to Benjamin Moore's 2019 Color of the Year, Off-White Metropolitan. As Hannah Yeo, Color & Design Manager at Benjamin Moore explains, "Today's changing technology, environmental concerns, and cultural and economic influences are all shaping how we live. More than ever, we expect the home to provide security, comfort, community, self-expression, and optimism. So we said, what are some of the colors that would really help with that?".
Behr continued the softer hue trend with its 2020 Color of the Year, Back to Nature. A restorative and meadow inspired green, this ecological neutral is meant to bring the soothing effects of the outdoors to the interior. Vice President of Color and Creative Services at Behr, Erika Woelfel, shares that, "Back To Nature encourages us to reengage with the natural world, which we know can have a real, positive impact on our well-being. Whether you're biking on a forest path, canoeing on a lake or walking on the beach, green is prevalent in nearly every outdoor landscape—it is easily nature's favorite color.".
Meanwhile, Sherwin Williams chose a richer and deeper color. Announced back in February, the company selected Naval, a deep twist on the classic navy blue, as its 2020 Color of the Year. Chosen, in part, for its reference to the night sky and to the sea, it is a big departure from last years more cheerful color, Cavern Clay. Sue Wadden, Sherwin William's Director of Color Marketing calls Naval a "new neutral," suggesting that tones outside of the typical white or gray can be used to evoke the same soothing effect.