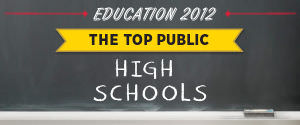 Here's some great news for New Jersey Midtown Direct community residents.  NJ Monthly published its listing of the best public high schools in New Jersey for 2012 and all of my communities made the Top 50.  Wow!!
Education is one of the primary factors in choosing a place to call home.  So how did we do it?  NJ Monthly took several criteria into account in coming up with the list including a graduation rate calculation and test results.  Due in large part to budget cuts, this year's weighting emphasized the importance of student results and placed great importance on schools learning to do more with fewer resources.
Let's take a look at the rankings and see how we placed….
#1 – New Providence
#6 – Madison
#8 – Millburn
#15 – Summit
#20 – Chatham
#24 – Livingston
#47 – Maplewood/South Orange
#49 – Westfield
That's pretty impressive.  What a huge achievement for our families and an important message for potential newcomers to these communities.  As we look ahead to the coming school year, we can send our kids off knowing they are receiving a top-notch education offering many opportunities to learn and excel.  I am so proud to live, work and share a community with such educated, creative and caring people.
To read the entire article, click on this link.  Good luck to all our kids as they begin the new year.