324 Millburn Ave
Millburn, NJ 07041
(973) 379-7020
About Basilico
This is excellent quality Italian food that is no frills. In fact, the establishment is BYOB, which makes many patrons happy since that means they won't be spending on a pricey bottle of wine. Basilico has been in the Millburn area for  years and is among the most steady of Italian restaurants in the area. The quality of food is consistent, which is what keeps locals coming back time and time again.
What to Order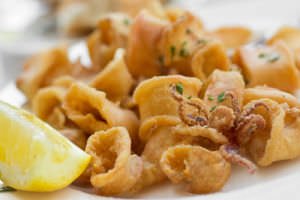 The seafood starters are a win and create a light start to your meal. There's an array to choose from, including calamari, shrimp and crab salads served over chopped arugula. The pastas are delicious and there's a nice mix of seafood, including squid ink, mussels, clams and lobster in a light tomato sauce. The sauce is flavorful, but allows the seafood to come through and creates an exceptional mix of flavors.The stuffed artichokes are also a smart pick for those who are looking for something cheesy and fresh to start off dinner.
The chicken parmesean is also one of the favorites for regulars, but keep in mind it's a heavy dish that's breaded and covered with cheese and sauce. If you're visiting Basilico to try many things on the menu, you may want to go with something lighter, which will allow you to make the rounds with different dishes versus filling up on breaded chicken.
The lamb is served with warm fig and risotto, making it a great pick for those who aren't in the mood for basic Italian food.  The braised ribs are fall-off-the-bone good and served with orzo.While there are these meat dishes on the menu, Basilico is best known for their seafood. Choose any of it and you'll be served incredibly fresh seafood, whether it's a raw appetizer sampler or pasta.
The restaurant is noisy, but that gives it a casual feel and makes you feel like you're part of the family. While there's no swanky dress code at Basilico, the dress is upscale or Sunday best when dining in the evening. Reservations are not required, but they are encouraged, especially for parties of six or more. If you arrive and there's a wait, make your way over the bistro across the street for drinks before you start your meal.
How Much?
Basilico's prices range from $25 and up, depending on what you order. The restaurant does get busy and it is a small space to begin with, which means it fills up early. On Friday and Saturday nights expect a lengthy wait of at least 30 minutes, unless you make a reservation. Inside, the restaurant is cramped quarters. For some this may be uncomfortable, while others are used to loud families and a lot of commotion.
Depending on the crowds, service is not always incredibly fast. Expect a leisurely meal, just like the type you may have in Italy. Throughout the years Basilico's has proven to be one of the most consistent restaurants in the area with a steady stream of regular clients who bring friends and family when visiting town.