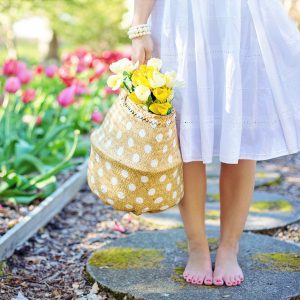 To quote Tolstoy, "Spring is the time of plans and projects". What better time to plan your own vegetable garden? Sound overwhelming? Maybe you're unsure whether you have a "green thumb". Well, don't be intimidated. With simple planning and some basic knowledge of gardening, surprisingly, you can plant your own garden.  April is a great month to start planting those leafy greens that we all vowed we would eat every night starting on New Years! Lettuce is a cool weather plant so it can be planted in early spring and survive chilly nights. The seedlings can actually handle a little bit of frost. In a matter of four to six weeks you will be ecstatic that you took on this project. Think kale salad or maybe a leek and basil soup. Sound appetizing? Try these helpful hints from the Farmers Almanac and consider growing your own garden:
Plant in a sunny location.Most vegetables need at least 6 hours of direct sunlight per day. The more sunlight they receive, the greater the harvest, the bigger the veggies, and the better the taste.
Plant in good soil.Plants' roots penetrate soft soil more easily, so you need nice loamy soil. Enriching your soil with compost provides needed nutrients. Proper drainage will ensure that water neither collects on top nor drains away too quickly.
Plant in a stable environment.You don't want to plant in a place that's prone to flooding during heavy rains, or in a place that tends to dry out a lot.
Space your crops properly.For example, corn needs a lot of space and can overshadow shorter vegetables. Plants set too close together compete for sunlight, water, and nutrition and fail to mature. Pay attention to the spacing guidance on seed packets and plant tabs.
Use high-quality seeds.Seed packets are less expensive than individual plants, but if seeds don't germinate, your money—and time—are wasted.
Water properly.Watering your plants the correct amount—neither too much nor too little—will give them the best chance at producing well-formed, mature vegetables.
Plant and harvest at the right time, not too early or too late. Every vegetable has its own planting dates so be sure to check the seed packet.
Sound easy enough? Just remember gardening is not perfection, but rather it's about the journey. Peace, Love and Kale!