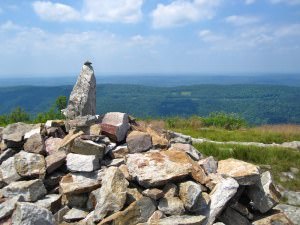 Northern New Jersey is known for beautiful hills, mountains and parkland.  There are dozens of great trails within a short drive of Short Hills and Summit.
Some of the closest and best are:
If you're looking for a lengthy hike, you'll definitely want to visit The Long Path at Palisades International Park.  This is a 17 mile out and back trail that includes a parallel biking route.   The Palisades Interstate Park is a total 2,472-acre linear greenway.  So linear in fact, that at times it is only about 1/4 mile wide.   It runs 12 miles from Fort Lee on the New Jersey side of the George Washington Bridge to the New York State line. Only 20 acres of park cross over into New York State.  This trail, which also includes an optional 7 mile route, crosses the George Washington bridge over the Hudson River.
Other long hikes include the Sunfish Pond & Mount Mohican Appalachian trail at 8.8 miles and the Palisades Englewood Loop Trail at 8.7 miles.  The road biking trails will also give you a good long ride with the Stockton Covered Bridge trail at 19.4 miles and the Smithville Ramble bike trail runs for runs for an epic 24 miles.
If a challenging elevation gain is your goal, Palisades Boulder Field Trail will give you a 530 foot gain.  Karamac-Dunnfield Creek Loop Trail offers a 700 foot gain with a top elevation of 1,000 feet.  Mount Tammany boasts the biggest gain on this list, with a complete elevation gain of 1,200 feet and a top elevation of 1,527 feet.  This is a challenge for serious hikers but is well worth it for the spectacular summit overlooking the Delaware Water Gap.
Perhaps an easy family outing with the kids is on your agenda for the weekend.  In that case, The Great Swamp Trail or The Torn/Osio Rock may be more your speed.  Both these trails are under 3 miles with a minimal elevation gain.  The Great Swamp trail is on the site of former 18,000-year-old glacial Lake Passaic.  Its meandering route offers plenty of exciting nature sights to excite the little ones.  You'll hike through marshes, meadows, swamps, and woodlands, past the Passaic River and several ponds.
The Osio Rock hike is moderately easy cutting through the Ramapo Mountains.  This is also filled with fascinating geological formations to interest the kiddies.  Reaching Osio Rock and the Torne, you'll discover promontories with superb views of the Wanaque Reservoir, the eastern Highlands, and the New York City skyline.  On the way back, the family can get a kick out of and enjoy a rest stop at the unique "Stone Living Room," where natural rocks and stones are arranged like "couches" and "easy chairs" and a fireplace.  The Stone Living Room is the perfect place to end the day with a relaxing family picnic.