When it comes to finding the perfect place to call home, New Jersey offers an array of options that cater to diverse preferences and lifestyles. Recently, Niche released its highly anticipated "2023 Best Places to Live in New Jersey" rankings. This comprehensive list considers factors like safety, education, job opportunities, and overall quality of life, crafting well-informed recommendations.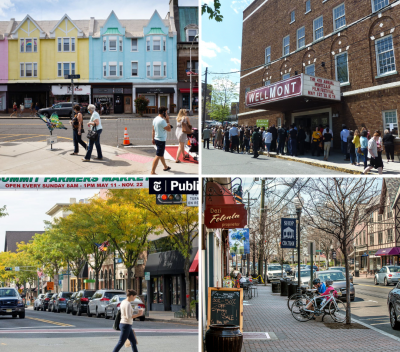 At the Sue Adler Team, we take great pride in guiding clients towards their dream homes within the finest towns this state has to offer. We have a saying, no one buys a house without first being sold on the community. We are delighted to announce that a number of the towns we are honored to work in made the list!
Berkeley Heights:

Securing an impressive #7 spot on the list of the best places to live in NJ, Berkeley Heights is renowned for its close-knit community, highly-rated public schools, and an array of restaurants, coffee shops, and parks.

Upper Montclair:

Holding the 10th spot, Upper Montclair offers a rich cultural experience, a bustling downtown featuring shopping and eateries, and a vibrant arts scene. At the heart of downtown lies The Wellmont Theater, a must-visit venue for upcoming concerts and shows, as well as the Montclair Art Museum. In NJ Monthly's 2023 edition of "

The 30 Best Restaurants in New Jersey

" two Montclair restaurants, Faubourg and Pasta Ramen, were featured. Both are a must try!

Fanwood:

Ranked as the 12th best place to live in the state, Fanwood stands as a charming suburb of New York City. Its family-friendly atmosphere, small town feel, adorable downtown, and annual 5k race make Fanwood a must visit!

Essex Fells:

Claiming the 15th position, Essex Fells boasts some of the finest schools in the area, and some of the most gorgeous homes. If you are looking for a small idyllic community, at the doorstep of bustling Montclair, Essex Fells is for you!

Short Hills:

Securing the 18th spot on the list of places to live and earning the top position for best school districts, Millburn-Short Hills offers an exceptional environment for living and growing up. The locale showcases beautiful properties, a charming downtown replete with shopping and delightful restaurants, and an outstanding education system. We have a particular fondness for Millburn Deli's delectable sandwiches (our recommendations include the Godfadda or the Griller #8), followed by a leisurely picnic at Taylor Park.

Chatham:

Achieving a rank of #27 on the list of places to live in NJ, Chatham boasts some of the state's finest public schools and dining establishments. According to this year's NJ Monthly list of  "

The 30 Best Restaurants in New Jersey

," Scalini Fedeli is prized for its pastas, and its history, as George Washington slept there in 1781 when it was Chatham House! The Sue Adler Team is privileged to have helped 38 families buy and sell homes between July 2022 and June 2023, and our firsthand experience underscores why this location is so sought after. The annual Fishawack Festival held in June presents an excellent opportunity to immerse yourself in Chatham's rich history, culture, and sense of community.

New Providence:

Coming in at #29,New Providence beckons with its harmonious blend of small-town charm and urban accessibility. Boasting top-tier schools, safe neighborhoods, and a strong sense of community, it's an idyllic haven for families. With its seamless proximity to New York City, professionals find the perfect balance between career opportunities and serene suburban living. This welcoming enclave offers a rich tapestry of parks, dining, the best diner around (Prestige Diner) and local events, ensuring a vibrant lifestyle for all who choose to call New Providence home.

Morris Township:

#30 Morris Township, NJ, stands as an inviting embodiment of suburban tranquility coupled with modern convenience. With its tree-lined streets, well-maintained parks, and a close-knit community, it's a haven for those seeking a serene environment. The township's historical charm is seamlessly intertwined with contemporary amenities, making it a place where the past and present coexist harmoniously. Boasting excellent schools and a strong sense of safety. With easy access to major highways, neighboring Morristown with tons of restaurants and shopping, this idyllic enclave offers both a peaceful retreat and seamless connectivity, making Morris Township a compelling choice for a balanced and fulfilling lifestyle.

Bernardsville:

#31 Nestled among the rolling hills of Somerset County, Bernardsville entices with its timeless beauty and sophisticated charm. This bucolic retreat offers an exquisite blend of quaint small-town allure and refined elegance, attracting those who seek a serene escape from urban hustle. With its historic architecture, picturesque landscapes, and a strong sense of community, Bernardsville provides an idyllic backdrop for you to thrive. Boasting excellent schools, upscale boutiques, and a blossoming culinary scene (David Burke is opening a restaurant in town soon!), residents can indulge in a life of comfort and cultural richness. The town's proximity to outdoor recreational areas such as Natirar park, and easy access to New York City fosters a harmonious balance between leisure and opportunity, making Bernardsville a captivating choice for a life of both relaxation and refinement.

Summit: According to Niche, Summit is the 33rd best place to live in NJ, and has the 8th best public school district in the state. From its great downtown comprising shopping and restaurants, to the scenic Reeves-Reed Arboretum, Summit is chock full with things to do. Attend a captivating performance at The Summit Playhouse, explore your artistic side (and take home a new ceramic masterpiece for your home) at Color Me Mine, or enjoy exceptional cuisine. Some local restaurants that have won our hearts include Huntley Taverne, Fiorino Ristorante & Bar, and Roots Steakhouse. Craving breakfast for dinner? Head over to the Broadway Diner for some pancakes up until 10PM on the weekends. Between January and July of 2023, the Sue Adler Team had a 108.14% average list-to-sale price ratio in Summit, which is 5.14% higher than the market average.
Bernards Township:

#35 beckons with its blend of suburban tranquility and modern convenience, making it an inviting haven for individuals and families alike. Surrounded by lush greenery and scenic landscapes, the township offers a peaceful retreat from city life while maintaining easy access to major urban centers. With its top-rated schools, safe neighborhoods, and strong community ties, Bernards Township provides an ideal environment for raising a family. Charming local shops, diverse dining options, and a rich cultural scene ensure a fulfilling lifestyle for residents. The township's commitment to preserving its historical heritage while embracing contemporary amenities creates a unique and harmonious living experience, making Bernards Township a captivating choice for those seeking the perfect balance between suburban serenity and connectivity.

Glen Ridge

: #36 Nestled within the tranquil embrace of Glen Ridge, NJ, lies a compelling blend of historic charm and modern allure that makes it an irresistible destination for homebuyers. The town's captivating architecture, scenic landscapes, and strong sense of community foster a sense of belonging that's hard to find elsewhere. Families are drawn to Glen Ridge for its exceptional school system, ensuring a top-tier education for their children. Beyond education, the town's close-knit atmosphere, local events, and charming downtown create a lifestyle steeped in comfort and enrichment. With easy access to New York City and a range of amenities catering to diverse tastes, Glen Ridge offers not just homes, but a rich and fulfilling living experience that continues to attract those seeking a perfect harmony between heritage and contemporary living.

Madison:

#37 Madison is consistently ranked one of the best towns to live in, not only in New Jersey, but in the nation. Downtown Madison always wow's, with its iconic clock in the center of town, amazing restaurants (Bottle Hill Tavern, Osteria Trevi, Madison Wine & Tap to name a few), coffee shops (Sunday Motor Cafe), and ice cream parlors (McCool's is a staple!). The charming neighborhoods, top ranked schools and converted midtown direct train line access make Madison a home run! 

Livingston:

Recognized as the 41st best place to live, with the #7 best school districts in the state, Livingston is a lovely town to call home. In addition to the esteemed schools, Livingston boasts some delicious delis and restaurants, close proximity to St. Barnabas Hospital, and many outdoor community events during the summer at the "Oval." We recommend Sweet Basil's Cafe for brunch, THAVMA Mediterranean Grill for lunch, and Nero's Grille for dinner, but it's hard to choose just three!

Westfield

: Ranking at #46 on the list, Westfield offers an ideal blend of historical charm, natural beauty with parks, and an engaging downtown experience. The downtown area, comprising 18 blocks filled with restaurants and businesses, adds to the town's vibrant atmosphere. Clients love all the pockets of town, both the North Side and South Side of Westfield have so many unique neighborhoods. All with their own flair, price points, and proximity to everything Westfield. When in town you can not miss Tuesday summer jazz nights, Tamaques park, or the annual Festi Fall/Spring Fling/Adams Fest. Westfield is a FUN town, loved by so many of our clients!
Not too far behind on Niche's list is Scotch Plains, Maplewood, Florham Park, Mendham, and South Orange! 
If you are interested in a real town tour, give us a call at 973.936.9129! We love to show off our amazing communities!