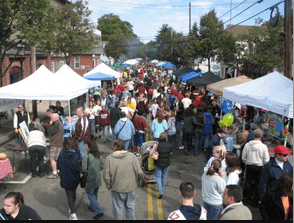 Bottle Hill Day is Madison, New Jersey's annual town festival and street fair held on the first Saturday of October. It is a rain or shine event open to all and free of charge. Madison residents, businesses and community organizations participate in this fun-filled day of food, entertainment, and shopping to raise money for the town.
Live music acts will be featured prominently at Bottle Hill Day, Madison's biggest event of the year organized by the Downtown Development Commission. The fair is expected to attract an estimated 10,000 people.
Other events include:
rock climbing free at Blue Ridge Mountain Sports
auto show featuring assorted cars and offering awards & door prizes
food court with tasty samplings from Madison's best eateries
Family Fun Zone with rides and inflatables
The Scheduled Musical Line-up
The Swampgrass Jug-Band returns to Bottle Hill Day with its arsenal of weird and wacky instruments including jugs, kazoos, washboard, and paper bag. The band has entertained the New York metro area for over 40 years and performs original songs in the styles of blues, American Roots, and classic jug band music.
Madison music teacher, Kathleen Wallace, leads Sunnyside Jazz, a local band that offers their own jazzy twist on tunes from the American Songbook. The band includes Peter Woolley on piano, Ken Rachlin on guitar, Matt Ellison on bass, and Richard Bradshaw on drums.
Rock band, The Project, was formed when four Central Avenue School dads discovered their shared taste in classic rock. Lead vocalist Chris Bias, guitarist Mike Preston, drummer Marc Cozzolino, and bassist Mike Shugrue quickly took their garage jam sessions to the stage, entertaining audiences throughout New Jersey. They will be joined by special guest, Val Schuszler on the guitar.
Jeff Webb, a solo guitarist and singer from Madison, is a regular at open mic nights in the local area. His acoustic covers of popular hits from The Beatles, Johnny Cash, and Jimmy Buffet are certain crowd pleasers.
Ginny Johnston & Mosaic will be performing folk rock interpretations of familiar songs, as well as original pieces composed by lead singer, Ginny Johnston. The group, including guitarist and banjo player Donald Bowen, percussionist Dan De Rienzo, and bassist Bob Funesti.
The Unplugged will perform their acoustic versions of classic, alternative, and grunge rock songs. The band features Chris Bias on vocals, Val Schuszler on guitar, Nelson Aguiar on bass, and Dave Hartkern on percussion.
Madison alumni Neil Mastrobuono and John Lepre will perform as part of the rock band, The Houserockers. The two musicians first played together as students at Madison High School and continued performing after graduating, entertaining local fans with their takes on rock songs from the 1960s through today.
Current Madison High School students make up The Dairy Farmers, a local band that plays a mix of alternative and classic rock. Their repertoire includes music by artists Radiohead and Modest Mouse.
When:
10:00 a.m. — 5:00 p.m.
October 5, 2013
Where:
Main Street
Madison, NJ 07940
If you have questions or need additional information, please call the Bottle Hill Day Hotline at 973-937-8084.