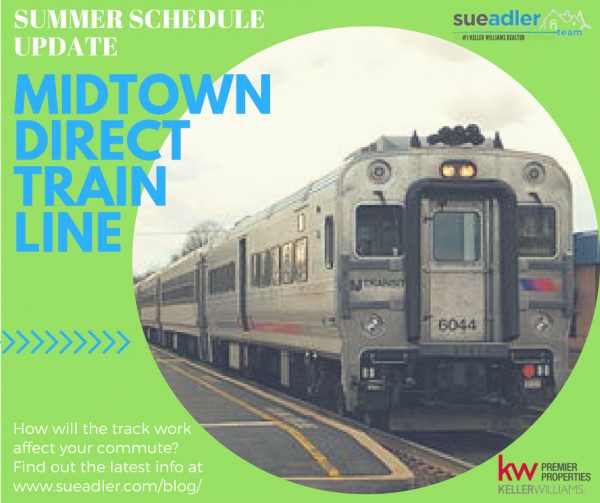 Charming neighborhoods, top-notch schools, vibrant downtowns, gourmet dining, upscale shopping and proximity to NYC transportation — this is a checklist of must-have items that clients bring to us time and time again here at the Sue Adler Team. It's no secret that an easy commute is a game-changer when it comes to work/life balance, and since our Midtown Direct train line provides access to NYC, the towns where we live and work are definitely a commuter's dream!
Unfortunately, that balance is about to be disrupted; albeit temporarily, but disrupted nonetheless. Due to work scheduled by Amtrak, the NJ Transit Midtown Direct train line is set to experience some commuting challenges this summer. The bad news is that all trains on the Morris & Essex line will go through Hoboken, as opposed to running directly to NY Penn Station; the good news is that commuters will be given a financial compensation for their troubles in the form of reduced fares and cross-honoring on the PATH and ferries out of Hoboken. So while, you may suffer a little in the amount of time and elbow room on the commute, you will find a little extra cash in your pocket in July and August.
According to an NJ.com article published May 11, 2017, Amtrak's plan to rehabilitate tracks and switches in New York Penn Station will result in service outages from July 10-September 1. Up to five tracks could be closed, which will affect about 25% of NJ Transit's 63 rush hour trains. Morris and Essex trains will be diverted to Hoboken, with the exception of four early morning trains, which reach NYC prior to 7 am. All other trains on this line will arrive in Hoboken and from that location, commuters can take the Ferry or the PATH to the City. Beginning June 19th, tickets can be purchased at a steep discount (current estimation is 50 – 65%) for monthly or weekly trips. Purchases should be made with Hoboken as the destination; however, those Hoboken tickets will be cross-honored on the early morning trains to Penn Station, as well as on the PATH from Hoboken to 36th or WTC and the Ferry. Additional information can be found at www.njtransit.com.
Look, we know you just want to get home at the end of a long work day – and while the diversions through Hoboken or adapting to a new commuting routine can be inconvenient, so can sitting in your car going at a snail's pace in a daily quest to get over a bridge or through a tunnel. The hope is that the work, when completed, will make our commute just a little bit easier and a great deal safer, and at the end of the day, you'll be back in these vibrant communities we love to call home. The Sue Adler Team is committed to providing you with the updated information you may need throughout the summer, so check our facebook, instagram and twitter feeds for any announcement regarding changes announced by NJ Transit.