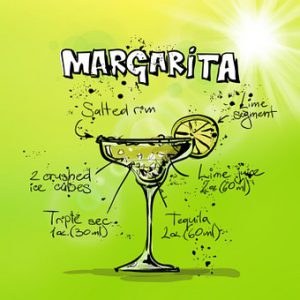 On February 22, the world will come together to celebrate National Margarita Day. Well, maybe not the whole world. More likely the celebration will include tequila lovers, Mexican restaurants and Parrotheads. Why that day? Seriously, what makes February 22nd so significant that the day has been designated to celebrate the beverage so closely associated with salsa, nachos and quesadillas? Jimmy Buffet fans probably got the hint right away, but for everyone else, it was on this day in 1977 that Buffet's iconic Margaritaville album was released.
We'll leave it to the experts to opine on the merits of frozen versus on the rocks, traditional versus flavored and salt versus no salt. But however you like them, here are two local digs where you can celebrate National Margarita Day.
Toro Loco – Located adjacent to the South Orange Train Station, Toro Loco is one of those little gems that you love to discover. The restaurant's traditional margarita, the Mar-Green-Rita, mixes agave nectar instead of simple syrup with fresh lime juice and your choice of tequila. If you're looking for something a little more exotic, consider the Spicy Margarita, which is the Mar-Green-Rita but with jalapeño tequila. Offering traditional Mexican fare, you might want to call ahead on Friday and Saturday nights as tables book up quickly. Happy Hour is held Monday through Friday from 4:00 – 6:00pm. During this time, Mar-Green-Rita's will run you $4.
Red Cadillac – A staple of Union's dining scene since 2010, Red Cadillac is recognizable for its auto shop decor highlighted by the eponymous car that sits out in front of the restaurant. Serving up a variety of margaritas, Red Cadillac is probably best known for its slew of in-house infused tequila that features flavors such as pear, ginger, hibiscus and coconut just to name a few. If you are feeling a little adventurous or are particularly thirsty, try the Tow Truck Margarita, which is a a 16oz ice cold mug towed by a 7oz. Sol beer. Frozen margaritas can be mixed with fresh strawberries or mango. Come for the drinks, but stay for the food as Red Cadillac offers up some of the best Mexican cuisine in the area. Specials include Big Gimbo Shrimp and Thai sweet chili burrito with mexican street corn.