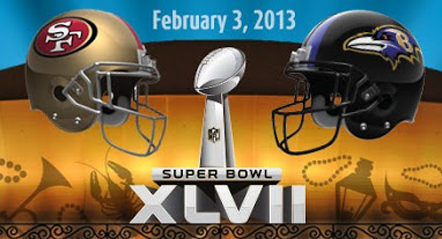 Super Bowl Sunday is only a few days away.  What an experience it would be to have tickets to this much anticipated sporting event, but better yet this typically wintry day is best spent gathering with friends either at home by the fire or at a local restaurant or pub.  It's a great reason to get loud and throw a party or go out and enjoy a few healthy and sometimes not-so-healthy snacks and drinks and cheer on your favorite team.
So where will you go this Sunday in our Midtown Direct communities to watch the San Francisco 49ers take on the Baltimore Ravens?  Here are a few good options…
Madison is a great choice.  As a college town, there are hosts of fun places for a large noisy gathering.  54 on Main in the heart of downtown Madison usually draws a crowd for big sports events.  With a spacious bar serving 37 beer varieties and 17 flat screen TV's, it's a crowd pleaser, but a good idea to get there early.  Poor Herbie's also in Madison has TV's at the bar and a wide selection of draught beers and good old fashioned comfort food.  This neighborhood establishment was selected as a Patch Readers' Choice Award 2012.  There's also Madison's Prospect Tavern situated in an1880s Tudor building serving delicious food and with a cozy fireplace it's an ideal cold weather eatery.  This establishment is a hop, skip and jump from the train if you prefer public transportation to driving.
Chatham also has some good game watching spots like Charley's Aunt.  As one Yelper describes "a great place to grab a burger and beer and watch the game."  River Grille in Chatham Borough has an expansive menu which includes healthy alternatives as well as traditional game dishes and the area's best microbrew selections.
The quaint and charming Maplewood Village hosts a few local hangouts to cheer on your favorite team.  Stop by St. James Gate Pub and enjoy a warm fire and cozy atmosphere and savor an authentic Irish dish.  There's also Coda Kitchen and Bar for a larger space and plenty of room to make noise.  South Orange gets in on the fun too.  An old neighborhood favorite is Bunny's Sports Bar, a family owned business where you'll get a great game view with 18 high definition TV's throughout the bar and special Super Bowl drinks during game time.  Great pizza to go with it.  Gaslight Brewery in South Orange is another family run restaurant and brewery offering a unique selection of beers and good game viewing.
No matter what team you're rooting for enjoy an evening with friends and have a few laughs.  Monday morning will be here before we know it.