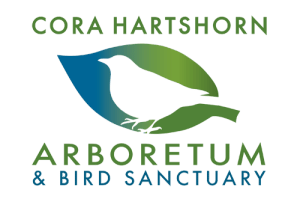 On a beautiful Spring day like today, our thoughts turn to being in a place where we can soak up the sunshine and commune with nature. The Cora Hartshorn Arboretum and Bird Sanctuary offers just that, and not only in the spring, but also all year long! The Cora Hartshorn Arboretum (CHA) dates back to 1923, when Cora L Hartshorn received a gift of land from her father, Stewart Hartshorn. On this land, she developed a place where "wild things could grow without harm and where people could come to enjoy them." Ms. Hartshorn died in 1958 and willed the Arboretum to Millburn Township, and by 1961, an Arboretum Association was formed through the efforts of the Short Hills Garden Club in collaboration with the Township in order to protect the land. The CHA includes 16.45 acres of woodlands, 3 miles of trails, and a diversity of flora and fauna. Their woodland volunteers are extremely diligent in ensuring that plant species indigenous to New Jersey are predominant. The CHA works tirelessly to promote an understanding of the relationship between people and the environment through programs that integrate arts, science, and the humanities; as well as providing a vast array of educational opportunities including school field trips, scout programs, family programs, adult workshops, summer camps and so much more!
Here are 5 things that you should know about The Cora Hartshorn Arboretum and what they do:
The Cora Hartshorn Arboretum has just finished renovations on the Stone House and has opened up brand new exhibits as of April 1, 2017.
Their Nature Camps are so much fun and kids have such a good time outside in the woods that you will not need to find other camps for them to attend.
The Cora Hartshorn Arrboretum High School Conservation Teens are now conducting citizen science projects throughout Essex, Morris, and Union Counties.
The woodland's restoration initiative has created a thriving home for numerous native plants and animals.
Cora Hartshorn's father, Stewart Hartshorn, was the founder and namer of Short Hills.
There are so many amazing non-profit organizations serving the members of our communities along the MidTown Direct Train Lines. It is an honor for The Sue Adler Team to feature so many of these organizations through our 100th Home Sale Charity Program. We're humbled by the work that they do and we are proud to feature each one by providing more in-depth information about them and how they serve. The 2017 Sue Adler Team 100th Home Sale Charity Program is up and running and first round voting is well under way! We invite you to learn more about how our Team will give away $20,000 across 6 local charities upon the close of our 100th home sale of the year, and how YOU can decide which charity moves on to the final round of voting. Visit www.sueadler.com/100home to vote daily for your charity of choice, and the top 6 vote-getters will move on to the final round. To learn more about The Cora Hartshorn Arboretum and the amazing work that they do, please visit www. http://www.hartshornarboretum.org/.