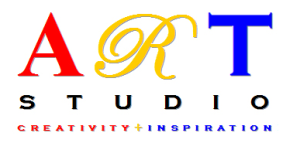 There are no bounds on creativity and fun at the Art Studio, a multi-faceted studio dedicated to stimulating the artist in all of us, located near your Maplewood home. The Art Studio provides unique art instruction for children and adults in a focused yet relaxed environment. This week, or the sooner the better, awake your artistic side and have a great time at the Art Studio, especially if you live in Maplewood.
Adults are in for a treat this Halloween season and beyond as the Art Studio welcomes you with Masterpieces and Martinis, evenings full of artistry and most of all, fun for you and all your friends. You can choose from a portfolio of master paintings and then have a blast creating your own, step by step and while sipping on refreshing martinis.
All skill levels are welcome most evenings of the week from 7:00 to 9:30pm. The cost of the evening $35, including canvas and paint. Groups of seven or more may paint for free. The Art Studio is located at 499 Summit Avenue in Maplewood. For more information and to schedule a reservation, call (973)378-3798 or click here.