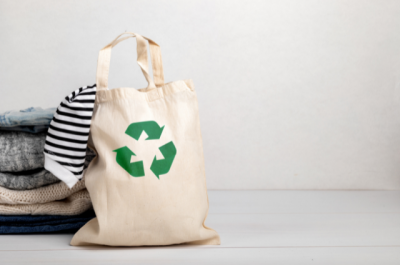 Calling all Marie Kondo enthusiasts! Have you been staring at your storage room and asking yourself "do these items spark joy?" If so, it may be time to consider a sustainable option for decluttering.
Life is a journey of accumulating memories and possessions, but there comes a time when we need to declutter and let go of the items that no longer serve us. Whether you're looking to create more space, embrace a more minimalist lifestyle, or have simply outgrown your old items, selling your old "stuff" can be a rewarding experience. In this blog post, we'll delve into the world of selling your preloved items at local stores, and revamp your home and wardrobe for the changing seasons!
᭼Livingston
♲"Duet"
79 South Livingston Avenue, Livingston
This curated to perfection consignment store is sure to impress! With their unique selection, expert staff, and incredible reputation for authenticity, you know your items are in good hands. From jewelry, to shoes, to clothing- they have and accept all mint condition, valued goods!
→Check out their website here!
᭼Madison
♲ "Once Again Consignment"
52 Main St, Madison
Want an affordable option offering consignment, estate, and interior design services? This highly respected and practical vendor can help you declutter, re-new, and sell items that no longer serve you and your home. Members of their team organize and create vignettes to make shoppers' experience enjoyable, and help homeowners sell their once loved treasures!
→Check their website for more information!
♲ "New Leaf Consignment"
​​16 Park Avenue, Madison
Is there a designer dress in your closet collecting dust? Look no further than this luxury consignment shop! Make sure you read through the consignment schedule, preferred labels list, and their policy to ensure the most efficient and lucrative experience! Authenticity is key for this establishment, so you know your high-end items are in good hands! Make sure you call to make an appointment at (973) 377-2422 !
→Check out their website for the latest schedule and policies!
᭼Maplewood
♲ "West Village Clothing"
410 Ridgewood Road, Maplewood
Have a ton of random shirts, pants, jeans, and whatever else lying around that needs a new home? Well this is your spot! Store owner, Sarah, believes in sustainability and pledges that you will do something green (reduce, reuse, recycle!) and you will make some moola along the way!
→Check out their website here!
᭼Montclair
♲ "One Savvy Design"
629B Valley Road, Upper Montclair
For over 11 years, this luxury consignment shop has helped their customers sell their previously loved goods, and find hidden treasures. This shop is highly recommended and has a loyal following! Best of all- they make the process of consignment a breeze.
→Check out their website here!
᭼Summit
♲ "Home Again"
333 Springfield Avenue, Summit
This chic establishment offers consignors the ability to sell their pre-owned, excellent condition, furniture for fair and collaborative prices. Offering services to enable you to received the support you need while making some big changes!
→Check out their website for policies and more!
♲ "The Collective"
101 Summit Avenue, Summit
This shop believes in community, and cherishes their relationships with consignors. Store owners work hard to build a community, while styling others in your treasures. They're always looking for the hottest items and our merchandise is constantly changing.
→Check out their website here!
᭼Short Hills
♲ "DoubleTake (DBLTKE) Consignment"
800 Morris Turnpike, Suite 105, Short Hills
Having been in the business for 30 years, this store knows what they're doing! The hands-on customer service is provided by excellent associates with sales experience, 100% honesty, complete authentication, and great taste. With a loyal customer following, and over 50,000 previous consignors under their belt, it truly makes the process enjoyable for all!
→Check out their website here!
Have some things in your home that have experienced a little more wear and tear? Looking to contribute to the community?
Check out these options:
᭼Morristown
♲ "The Market Street Mission Thrift Store"
25 George Street, Morristown
This charitable program accepts donations of most items except toys, books, medical equipment, baby furniture and damaged furniture. Donations are tax-deductible, and all proceeds benefit the Mission including our substance abuse program. To schedule a pick-up call 973-538-0427!
→Check out their website for more information on what they do!
᭼Harding 
♲ "WAMMC Bargain Box Thrift Boutique"
1117 Mt. Kemble Ave, Harding
Providing gently-used & affordably-priced merchandise since 1960, their experienced staff is supported by a team of volunteers who work to collect and offer merchandise with special events. We accept donated items from our generous community and all sales proceeds directly benefit The Women's Association for Morristown Medical Center!                          →Check out their website for more information on what they do!