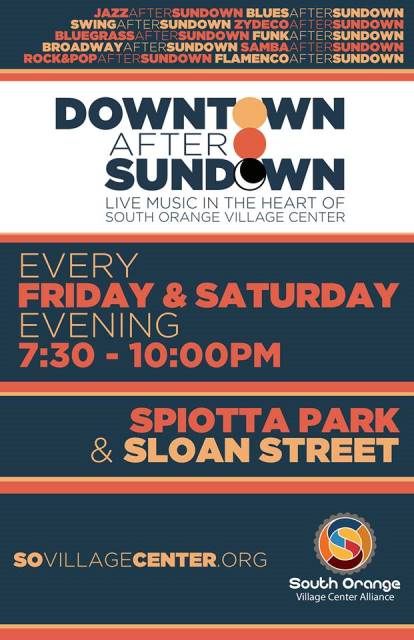 The sweet sound of music fills the air every summer weekend in South Orange, where locals and visitors alike can enjoy free concerts in two venues just a block apart. The "Downtown After Sundown" concert series has become a staple in South Orange Village Center since it began in 2010, helping the community secure its spot as the "live music capital of Northern New Jersey." Nearly every musical style is represented at these free community concerts that take place every Friday and Saturday evening from 7:30 to 10 pm, including acoustic, zydeco, jazz and flamenco.
Take an evening stroll, grab some dinner, a coffee or an ice cream and head to the heart of South Orange Village Center for the sounds of Jazz on Sloan (under the Gazebo on Sloan Street) and Sounds in Spiotta (in Spiotta Park at the intersection of South Orange Avenue and Village Plaza). This concert series is made possible by the Village of South Orange and is produced by the South Orange Village Center Alliance.
Here's a list of upcoming concerts:
Jazz on Sloan:
July 21 – Abelita Mateus – Brazilian, samba
July 22 – Dave Braham Trio – straight ahead jazz
July 28 – Organ Groove Trio – jazz guitar
July 29 – Abel Mireles Group – jazz sax
August 4 – Full Disclosure – jazz
August 5 – Well Fed Trio – jazz
August 11 – Ben Williams – trombone
August 12 – Bill Tally and Friends – jazz, funk and latin
August 18 – Ife Basim Trio – vocal jazz
August 19 – Zach Brock Music – classical jazz
August 25 – Lost & Found featuring Sarah Partridge – jazz vocalists
August 26 – Carol Deminski Dixieland Band – jazz vocalist jam
Sounds on Spiotta:
July 21 – The Kludge – rock, pop and new wave
July 22 – Reckon SO Trio – bluegrass
July 28 – Mood Ring – covers and originals
July 29 – The Accelerators – hard rock
August 4 – Zoe Crutcher Band – folk-soul acoustics
August 5 – SCORE – covers
August 11 – Sheri and the Universe – blues soul
August 12 – Mike Choi Acoustics – guitar
August 18 – Laredo – country
August 19 – Ricky Persaud, Jr. – funk, rock, R&B and new wave
August 25 – DC Fusion featuring Nat Adderley, Jr. – R&B, jazz and Latin
August 26 – Bite the Bullet – rock & roll
For more information on the Downtown After Sundown series, please visit http://www.sovillagecenter.org/pub/gen/news/583/fulltext. And for more information on living in this fabulous community, call Sue Adler Team SOMA at 973-936-9129 or email [email protected]. When it comes to your real estate needs in Maplewood and South Orange, we are yours to count on!