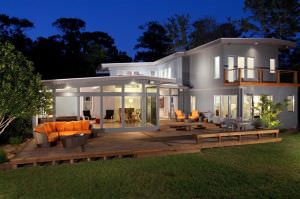 Our Midtown Direct communities are filled with stately, turn of the century homes showcasing old world charm on well established properties.  In recent years, there has been a real buzz in the market and a growing interest in modern type dwellings.  The newness, attention to detail and architectural distinctiveness of a newer home makes each property exceptional, almost like taking a journey through unchartered territory, not sure what amazing surprise awaits.  There's definitely a current resurgence in both architecture and interior design towards Mid-Century Modern — the period that generally describes mid-20th century elements in design, architecture and urban development when architects began introducing modernism into America's post war suburbs.  This open and simplified idea in design offers clean lines, geometric elements and the seamless blending of indoor and outdoor space.  What's also very trendy is a mixture of many styles.  By adding a touch of mid-century modern to a room you can make a very bold design statement.  Add a piece of modern furniture or a pop of bright color amongst your traditional antique or period pieces and create a look with contrasting materials and styles that can bring balance and complement one another.
Many consider Frank Lloyd Wright's movement of organic architecture combined with Arts and Crafts as an American influence for the aesthetic of Mid-Century Modern.  However, on closer look we realize the Mid-Century Modern movement in the U.S. was strongly influenced by the International and Bauhaus movements.  Brazilian and Scandinavian architects were most influential with this style characterized by clean simplicity and an integration with nature.
A great way to get design ideas is by perusing magazines and websites.  You'll be surprised by how the simplest accent can make a room speak and exude warmth and a feeling of calm.  Take a look at two inspiring publications, both ideal resources for excellence in modern home living.  For the modern home lover, here's a chance to  venture through some of the best in modern home design and lifestyle.  One look at TriMoCa.com, the premier online resource for modern and mid-century architectural properties in the tri-state area will definitely whet your appetite.  The site was created to celebrate and preserve modern architecture and features homes for buyers who appreciate contemporary dwellings.  There's also dwell, a monthly magazine filled with home ideas in the modern world and dwell.com, their online counterpart devoted to modern architecture and design ideas.  Grab a cup of coffee, soak in the sun and spend a few leisurely hours paging through or looking online.  You'll definitely come away with some cool, sleek touches to add to any room and a new appreciation of modern home architecture.  Move out of your comfort zone, be a little adventurous and add a little modern.  Summer is a great time to start!!