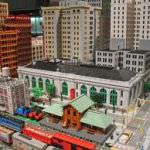 This past Sunday, 50 families joined together at Washington School's gymnasium in Summit New Jersey to participate in the 6th Annual Architectural Workshop recreating downtown Summit out of LEGO blocks.  Truly unbelievable to think of a huge map of downtown Summit highlighting streets and historic buildings and over 50,000 colorful LEGO squares and rectangles being assembled to replicate this beautiful town.  Each one unique and truly a work of art!
The event is organized as a fundraiser for the Summit Historical Society, a membership organization created to preserve and disseminate information about Summit's rich heritage.
I can't think of a better way to raise money than by bringing families together building community spirit and camaraderie.  Summit is a special place and its downtown offers residents and visitors some of the area's best restaurants, boutique shops and galleries.  Don't miss an opportunity to try one during Restaurant Week, February 17 -26 – it's great fun.
And for all those LEGO fans — young or old — and appreciators of fun art, you must visit The Morris Museum in Morristown, NJ and see the amazing "Art of the Brick" exhibit by artist Nathan Sawaya, who creates large scale sculptures out of LEGO blocks.  The exhibit ends February 20 and also includes some interactive workshops for children.  It is truly inspiring.