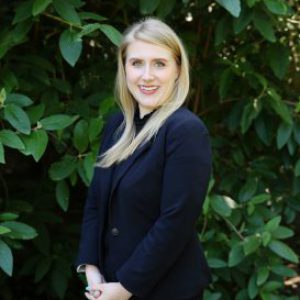 Kristen Jackson is relatively new to the real estate industry. A recent transplant to the area from New York City, she is also one of the newest members of the Sue Adler Team having joined this past January. However, you wouldn't know this when meeting her for the first time. Kristen is a quick study with a keen intellect and her diverse background has equipped her with many of the qualities and skills needed to be a top producer.  She has been a welcome addition to the team.
We spoke to Kristen earlier this week about her recent move to Maplewood, her career in theater and her new life in Real Estate.
Why did you decide to leave Manhattan and move to Maplewood?
I always thought I was a city person and I lived in cities for over 10 years, including Chicago and New York. But I lived in a very expensive shoebox and I was ready for a car to run errands. Now I can buy in bulk and go in and out of Trader Joe's in 10 minutes.  My husband and I chose Maplewood for a few reasons but first because we know a few people who live here. My husband still works in the city so we needed to be close to the train and on a line with night and weekend hours. We love how artsy and diverse Maplewood is. Plus, it's such a cute town that looks straight out of the movies.
As a first time buyer, what were some of the challenges you faced when looking for your house?  How many houses did you visit?  Did you make any sacrifices along the way?
Well we originally thought we were going to rent and looked at a lot of buildings and rentals in multifamily units but ultimately decided buying made more sense. We actually only looked at 2 houses and picked our house the first day. We ended up sacrificing being walking distance to the train but the Jitney makes up for it. We got everything else we wanted, though. I think it was so easy because we were realistic – we knew our budget and that this was our first home. We know we may eventually outgrow it but it's perfect for us now and for the foreseeable future.
How do you think your experience in the theater industry helped you launch your career in real estate?
There is actually quite a few people from theater who make the transition into real estate. As a Stage Manager, a lot of my skills translate well. Stage Managers are the communication hub of the show, communicating between the director, designers and actors with the goal of getting the show together. Realtors do the same – communicating between both sides of the transaction, the lawyers, the lender, etc. to get to closing. Plus, doing a show and buying a house are both stressful experiences. Talking to a nervous actor is very similar to a nervous buyer.
What is the biggest surprise that you have faced so far?
I think the biggest surprise is how much work goes into it. The public perception is definitely that realtors work few hours and get handed big commission checks. It may look that way, but in reality we're working every day, including odd hours, and those commission checks are the only way we're compensated. So any time we take out a buyer, we may be working for free! There's no guarantee they'll buy a house.
What have you learned in the past few months that will make you a stronger real estate agent for your clients?
In the past few months, I've really learned about the different towns. So many of our clients are moving from the city and have no idea where to begin. What sets the team apart is that we listen to our clients and help them choose the right town first before the right home. We know about the school districts, train commutes, property taxes, not to mention the best restaurants. All of this information can really help the buyer make an informed decision on where they want to buy. When I moved from the city, I wasn't too familiar with the towns but since then I've done a lot of research and can help others find the perfect town.
How has working with the Sue Adler Team helped in launching your real estate career? 
The Sue Adler Team has such an experienced group of agents who are constantly evaluating the market, analyzing trends and interpreting real estate policy.  This market analysis has helped me educate my clients, which has been a huge asset in launching my career.
Where are your favorite places to go in New Jersey with your husband and dog, Bruno? What do you miss most about the city?
I love the South Mountain Reservation. They have a great dog park and lots of trails (it's 2100 acres!), plus you can get city views there. I only miss one thing about the city – the sunsets. I lived in Long Island City and saw the sunset over the Manhattan skyline every day.
What are three things a buyer should consider before leaving Manhattan for the 'burbs?
Location is most important. If you're commuting, keep in mind how long it will take you to get to the train, the time on the train and then to get to your office. If you plan to park at the station, allow time to find a spot. Since trains don't come every few minutes like the subway, you don't want to miss it!
Pay attention to property taxes. They're high in New Jersey – it might add $1000 or more to your monthly payment.
Like the subway, NJ Transit can be finicky but the trains are much nicer and you'll never see a homeless person or a subway performer.