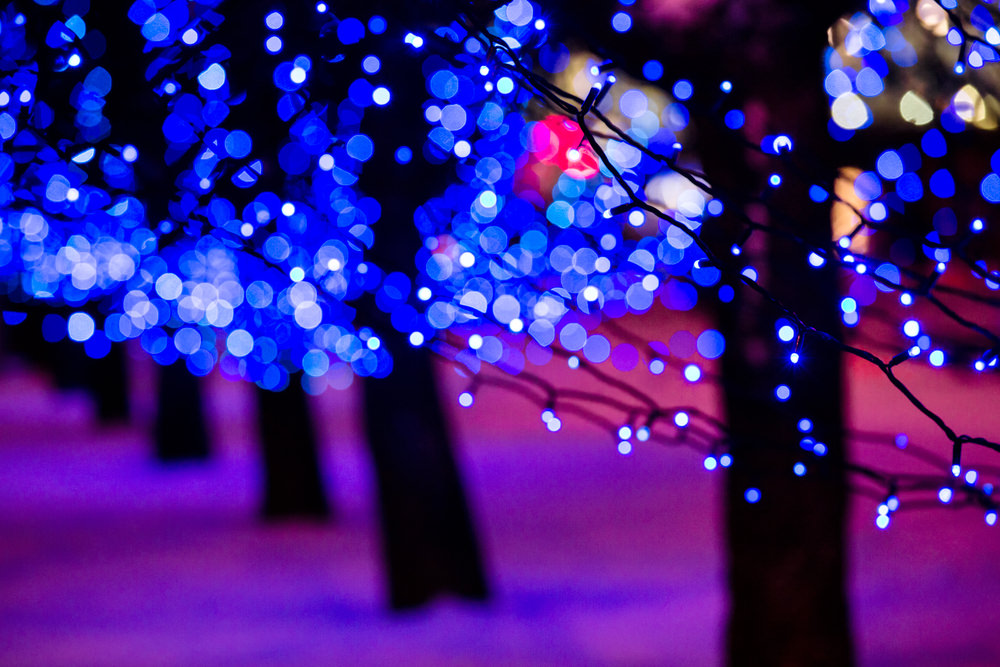 Nothing puts the fa-la-la in your heart quite like halls decked out in the twinkle of thousands of holiday lights. So we've put together a list of some of the best places in the area to catch fantastic light shows and holiday displays that will put even the most die-hard Scrooge in the holiday spirit.
Become a member of Santa's flight crew in Short Hills
This is no ordinary Santa's Village at your typical suburban mall. Santa's Flight Academy at The Mall at Short Hills is an immersive and interactive holiday experience that can only be described as "colossal." Kids can explore a state-of-the-art reimagining of the North Pole and discover what it's like to be part of Santa's flight crew. Cap off the adventure with a visit with Santa himself. Due to the anticipated demand, visitors are urged to pre-register children online.
Go wild at the Turtle Back Zoo
The Essex County Holiday Lights Spectacular at the Turtle Back Zoo is back this year with more than 50 animal and holiday-themed light displays. Take a stroll with the kids and enjoy over 100,000 lights. Kids can also mail letters to the North Pole and take a selfie with Santa. The best part? Admission is free! The zoo will be accepting donations of food, toys and winter coats. You can even catch a glimpse a Santa's reindeer before they take their special ride.
Get decorating ideas in Summit
Are you ready to up your holiday decorating game? Then check out the Reeves-Reed Arboretum Holiday House Tour. On December 8 you can wander around five area homes that have been adorned with elegant and cheerful holiday décor. Top it off with a little shopping and cocktails at the holiday boutique at the historic Wisner House. Enjoy a day out with friends, get some holiday inspiration and knock some names off that shopping list.
See the tree lighting in Berkeley Heights
Residents of Berkeley Heights will be treated to a night of magic on December 3 at the Berkeley Heights Winter Walk. Join Santa for the tree lighting and a special fireworks display at 5 p.m. in Peppertown Park. Afterwards, check out the life size snow globe, take a horse and carriage ride, or try out your moves on the ice rink. There will be entertainment, raffles and giveaways, and food and drink specials throughout town. This is a fun night for the whole family!
Experience the holidays of yesteryear at the Stickley Museum
Have you ever wondered how the holidays were celebrated a hundred years ago? You can now find out for yourself at the Candlelight Tours at the Stickley Museum. For two nights only on December 9 and 10, visitors will be guided by candlelight after hours to view the special decorations in the Log House. These tours are a local favorite and fill up quickly, so be sure to make your reservations online now.
Celebrate Twelfth Night in Mendham
The Mendham Fire Department is hosting a special event on January 8 at 6:30 p.m. The Mendham Annual Twelfth Night Celebration will offer a last roast of the holiday season with their Christmas Tree Bonfire. Residents can register to have their trees picked up by the fire department in advance. On the evening of the event, visitors can enjoy holiday music, hot chocolate, and the warm, toasty glow of hundreds of Christmas trees (safely) going up in flames. What better way to end the season?
Get more information
If you'd like more information about buying or selling a home in one of the Midtown Direct Train Line Communities, please click here to contact The Sue Adler Team. We hope you and your loved ones enjoy a happy and healthy holiday season!