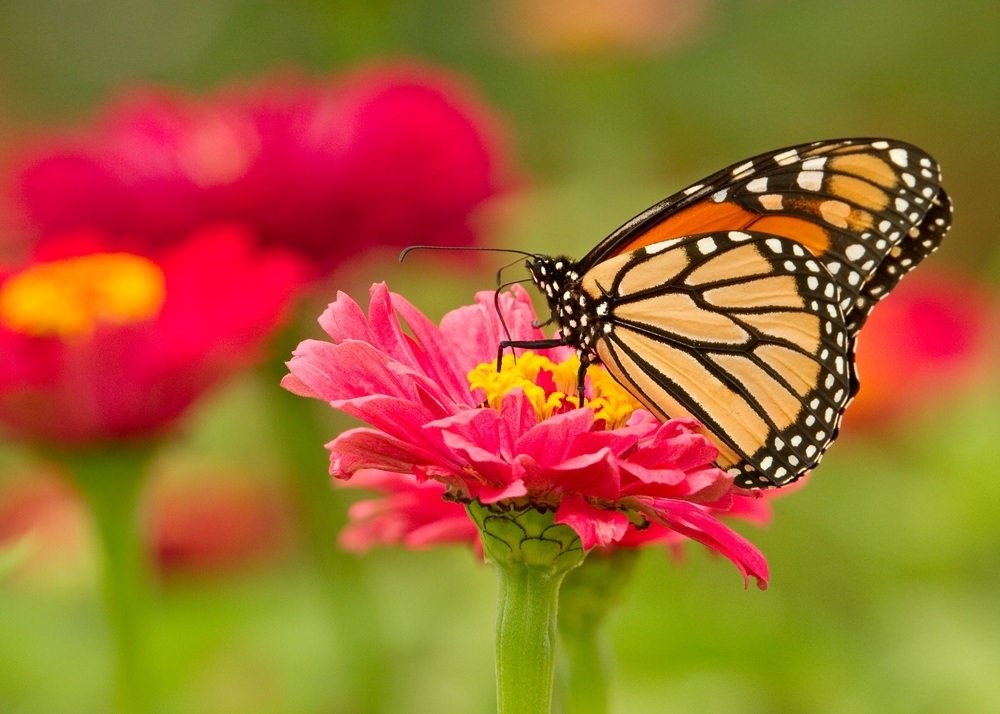 Head to Greenwood Gardens in Short Hills on July 25, from 10 a.m. – 1 p.m., for a day of discoveries and delights during the "Bees, Beetles & Butterflies" event. Award winning author, habitat consultant, and butterfly expert Rick Mikula, the "Butterfly Guy" will delight children and adults with his interactive, educational presentation featuring live butterflies that will be released into the garden. Watch bees at work in Tomaro Honey's live observation bee hive. Marvel at the incredibly diverse world of insects displayed by Insectropolis, the "Bugseum of New Jersey".
For over twenty years Rick Mikula has been delighting audiences of all ages with his humorous and off beat way of looking at butterflies. An award-winning author with several books to his credit, he is also a photographer and habitat consultant, and has created butterfly atriums and gardens for Dolly Parton, Hershey Foods, among others. The owner and operator of Hole-In-Hand Butterfly Farm in Hazleton, Rick has appeared on numerous TV shows including The Animal Planet Network and The Discovery Channel.
From pre-k to college, any type of group will be spellbound and amazed at his fast-paced and high-energy performances. Rick's slide programs will not only show the beauty of butterflies that he has found on his rainforest tours but also the wonderful creatures that wait right outside your door. Mounted specimens will demonstrate the mystery of camouflage and the trickery of disguise that butterflies and moths use to escape predators. 'Live' butterflies are always the high point of every presentation as Rick demonstrates just how easily they can be handled and cared for in the classroom.
And that's not all! During this event, Insectropolis will have a display featuring the amazing, marvel-filled world of insects. And, in another fun-filled interactive presentation, beekeepers from Tomaro Honey will teach us all about the life of the bees, how beekeepers take care of bees, why bees are so important to our world—and how to do the "bee waggle dance." A live, observation-only bee hive will be on display in Tomaro's booth along with their pure, local honey and honey and/or beeswax based products, including soaps, lotions, lip balms and salt and sugar scrubs.
You can also purchase local honey and other goods from vendors, including tasty delights from Lizzmonade, Lickt Gelato and Splurge bakery. Lunch items, including kid-friendly choices, will be available fore sale and Overlook Hospital will show the many ways to use honey in home-cooked meals with live cooking demonstrations.
General admission is $10. Admission for adults 65+ and students with ID is $5. Free admission for members and children under 12.
Greenwood Gardens in Short Hills is a 28-acre public garden surrounded by 1,200 acres of parkland, including South Mountain Reservation, a part of Essex County park system. The Gardens were a private estate until 2003, when the Blanchard family decided to transform them into a public garden. Astride the western ridge of the Watchung Mountains and overlooking a vast preserve of forest and meadow, Greenwood is a contemporary garden and historic site rooted in the Arts & Crafts and Classical approaches to garden design. With Italianate garden terraces, grottoes, meandering moss-covered paths, allées of London plane and spruce trees, ornamental trees and shrubs, and wildflower meadows, Greenwood Gardens is a place of horticultural excellence. Removed from the sights and sounds of modernity, you will be transported back in time.