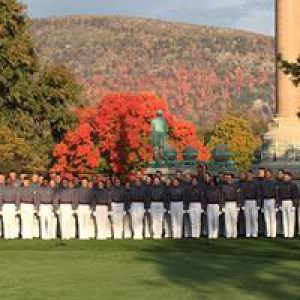 With the anticipation of the Super Bowl and the excitement of a snow day behind us, you might be wondering just exactly what kind of entertainment you might find in our MidTown Direct train line towns this weekend.
The St. John's Summit Concert Series has a wonderful event planned for your entertainment this weekend; and better yet, they are offering a way for you to help someone else have a great and gleeful afternoon!
On Sunday, February 12th at 3 pm, the West Point Glee Club will be performing as the 3rd installment of the 3rd season of the St. John's Summit Concert Series. The West Point Glee Club has represented the United States military in venues across the country for more than 100 years. Under the direction of conductor Constance Chase, they perform a wide repertoire, including all genres of American and international choral compositions; and they are particularly known for traditional West Point songs, such as The Corps and The Alma Mater.
The SJSCS invites you the community to spend the afternoon with them, taking in the beautiful voices of the West Point Glee Club. And, if you are able, they invite you to add an extra ticket to your purchase for a local Veteran. The SJSCS has reached out to the local VA hospitals with complimentary tickets to this performance. The response has been so heartening –they are thrilled to be invited guests, and very grateful that members of our amazing communities have been offering to pick up the cost of their tickets. If you would like to donate a ticket to our honored Veterans, please contact St. John's Summit Concert Series at the church office at 908.273.3846.
A reception, hosted by SJSCS, will immediately follow the performance. The St. John's Summit Concert Series aims to bring a diverse array of music to the local communities surrounding Summit, NJ, offering residents the opportunity to see and hear musicians, from local mainstays to internationally recognized performers, in an intimate setting. Past performers have included the Vienna Boys Choir, Chanticleer, and Pinchas Zukerman and the Zukerman Trio. The SJSCS is a recognized 501(c)(3) non-profit organizations that is funded solely on the generosity of patrons.
Tickets are $20 each and can be purchased at www.stjohnssummit.org/concertseries  or by calling 908.273.3846. Remember, if you would like to donate one of your tickets to a Veteran (even if you purchased them online), please call the office to indicate your donation. What a wonderful way to share a special event with someone who served our country!
The Sue Adler Team loves the giving nature of the members of our communities; it's what makes us want to make these towns the places where we live, work and play. If you're buying or selling a home in one of the Midtown Direct Train Line communities, we'd love to hear from you. Our clients are our #1 priority, and we will go above and beyond to make your experience exceptional. Enjoy your weekend!