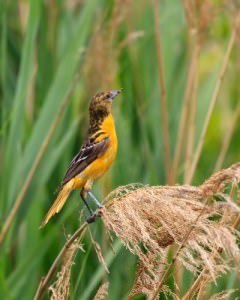 The Great Swamp National Wildlife Refuge is one of New Jersey's natural treasures.  It was established in 1960 with the aim to conserve the state's wonderful natural resources for the public to enjoy and to protect the area's threatened and endangered species.  It is located in Morris County, about 26 miles west of midtown Manhattan, and contains over 7,700 acres of pristine habitat where visitors can view more than 240 different species of animals.
Wildlife and Habitat
The Great Swamp National Wildlife Refuge is protected open space nestled in a mostly suburban area.  There are a variety of habitats that host a true mosaic of plant and animal species.  Here visitors can enjoy grasslands, brushlands, forested wetlands, marshes, ponds, streams, and mature forests.
Nearly 40 species of mammals can be found in the refuge.  On any given day hikers may witness white-tailed deer, red foxes, coyotes, gray squirrels, river otters or muskrats.  While rare and somewhat elusive, visitors may also be treated to glimpses of black bears that travel through the refuge.
Migrating waterfowl love the Great Swamp National Wildlife Refuge, and many different species make stops here during their annual migrations.  Some of the species that can be spotted include the green-winged teal, American wigeon, northern pintail, mallard, northern shoveler, blue-winged teal and bufflehead.
Visitors can also keep a lookout for over 40 different species of reptiles and amphibians at the refuge.  Some commonly seen include green frogs, bull frogs, painted turtles, snapping turtles, and spring peppers.  These can all easily be seen when walking along the boardwalks at the Wildlife Observation Center.
Wildlife Viewing
There are many places to view wildlife throughout the refuge.  The Wildlife Observation Center contains 1.5 miles of boardwalk to let visitors catch glimpses of many different species including snakes, frogs, turtles and birds.  There is also a 2 mile tour route on Pleasant Plains Road that is suitable for cars or for hiking.  Here visitors can see red-tailed hawks and bluebirds, or stop at any one of the open vista opportunities for great photos.
The refuge maintains eight miles of hiking trails that visitors can explore.  More adventurous hikers can even try the 3,600 acres of trails throughout the refuge, although hip boots are recommended.
Planning Your Visit
To begin your exploration of the refuge, start at the Helen C. Fenske Visitor Center.  The Visitor Center is open Thursday and Friday from 12pm – 4pm and Saturday and Sunday from 10am to 4pm.  It is advised that all visitors wear waterproof footgear or old sneakers.  Insect repellent is also recommended from May through September to protect against mosquitoes, ticks and deer flies.
The Great Swamp Wildlife Refuge is open year-round from dawn to dusk, seven days a week.  It is located at 241 Pleasant Plains Road, Basking Ridge, New Jersey, 07920.  From I-78 take exit 40 and turn right on Hillcrest Road.  Hillcrest turns into Mountain Avenue after passing over the Passaic River Bridge.  Cross over Long Hill Road onto Meyersville Road and turn left onto New Vernon Road and follow signs to the refuge.  From I-287 take exit 30A and bear right onto North Maple Avenue.
To learn more about the Great Swamp National Wildlife Refuge, please visit http://www.fws.gov/refuge/Great_Swamp/.