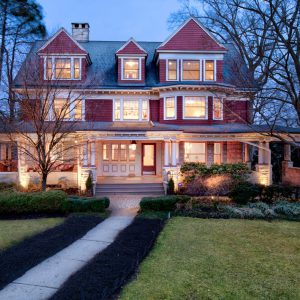 There's something about old houses that people love, especially the elegant and whimsical Victorians. Distinguished by their ornate trim, expansive porches and bright colors, Victorians were one of the dominant architectural styles of the late 19th and early 20th centuries. Fortunately for area architecture fans, there are still plenty of Victorian homes to admire. However, there is one house that stands above the rest – Edward Balch's house.
Known as the "Father of Maplewood," Edward Balch was instrumental in the development of the town, helping oversee its rise from a collection of farms and occasional houses to a planned community during the early 20th century. Although he was a businessman, having owned or started a number of ventures, including The Maplewood Bank & Trust Company, The Maplewood Country Club and companies that manufactured women's raincoats, costumes and metal screens for doors and windows, he is best known as a homebuilder and town pioneer.
Born in Brooklyn in 1858, Balch moved to East Orange from New York City with his young family in the 1880's. An amateur baseball player, he joined a local team and it was during a visit to play a game that he first discovered Maplewood. In 1890, Balch built a small house in Maplewood and moved to the town with his family. A few years later, Balch sold the house and built a larger one for his growing family. In 1899, he sold that house after building a still larger house across the street. The experience of building his own homes kindled Balch's interest in home building.
In 1900, Maplewood's population was 1,600 and there were large tracts of land available for development. Balch saw Maplewood's potential to become a residential town and over the next 20 years, he built 175 homes in Maplewood mostly on the slopes of South Mountain. Designed with young couples and growing families in mind, the houses reflected a variety of styles and designs, from center-hall Colonials to gambrel-roofed clapboard houses and four-squares.
Balch's third house, the one where he spent the last 35 years of his life, is considered by many to be his masterpiece. In time, it came to be known affectionately as "Mr. Balch's House".
This week, 624 Ridgewood Road, Mr. Balch's House, is being put up for sale by its current owners for $1.525,000.
It's not very often that you have a chance to own a local piece of history, especially something as extraordinary as Mr. Balch's House. Perfectly restored and renovated from top to bottom, this 7 bedroom, 4½ bath Victorian combines exquisite architectural details with every convenience of modern day living. The high coffered ceilings, idyllic wraparound front porch and period details at every turn not to mention the gourmet chef's kitchen and luxurious bathrooms that are worthy of a magazine spread, make the house an absolute dream for architecture or history lovers.
Contact the Sue Adler Team for more information and a private showing. Be prepared to fall in love. To see for yourself come to the Open House this Saturday from 2:00 to 4:00pm or Sunday 1:00 to 4:00pm