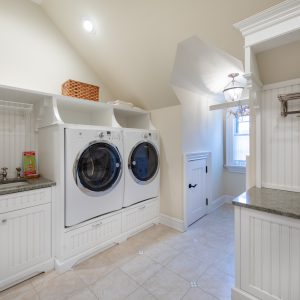 While houses are built to last, not everything inside is.  Wear and tear inevitably takes a toll. After ten years, no matter how much you have loved and cared for your home, more likely than not there will need to be updates made.
With that thought in mind, here is a list of common updates you should consider to keep your home in top condition …
Carpet
Unfortunately, carpets don't last forever! While there is no expiration date, they usually last five to 15 years depending on usage and care. And once your carpet hits the ten-year mark, you will probably notice warping, stretching, odors or stains that do not go away no matter how often you clean your carpet – all clues that it's time to consider replacing.  Plus, styles may have changed since that carpet made its was into you house.
Paint (interior and exterior)
Most likely you've grown so accustomed to the paint on your walls that you no longer notice the dirty handprints, scratches, marks or dings and dents from whatever indoor sport the kids created on a rainy day six years ago. Though interior paints can last up to ten years or longer, a fresh coat does wonder for a room, even if it's not a high traffic area.
The exterior of a home needs to be painted every ten years depending on the material and climate. In New Jersey, since the sunlight isn't as intense, paint on wood siding should last five to ten years and 20 years on vinyl or aluminum siding.
Bathroom Caulking
The caulking around your shower, sink and bathtub keeps water from leaking into your walls, which can lead to mold and mildew growing in areas that you most likely won't know about until its too late. It's recommended that homeowners re-caulk at least every ten years. In addition to protecting the inside of your walls as mentioned, it also has the added benefit of improving the look of your bathroom.
Hot Water Tank
Most homeowners tend to run their hot water tank until it fails. Hopefully, the tank will just stop working. Frequently though, it will burst, which could lead to costly water damage. The average hot water tank lasts about ten years.  After reaching that anniversary, you should consider either having the tank annually maintained by a licensed plumber or replacing the tank, which would have the added benefit of saving on energy costs since newer models are more efficient.
Dishwasher and Washer/Dryer
Just like a hot water tank, the average life span of a dishwasher and washer/dryer is about ten years. If you've reached year ten and everything is still working, consider yourself lucky. But you may also want to consider replacing before any problems or leaks occur. You're also likely to find a more energy efficient model that may pay for itself over time.
Garbage Disposal
Garbage disposals are often out of mind until the time comes when you can no longer get of all those peelings down your sink.  The average lifespan of a disposal is about ten years. If it's still running after that time, it's recommended that at a minimum you replace the blades.