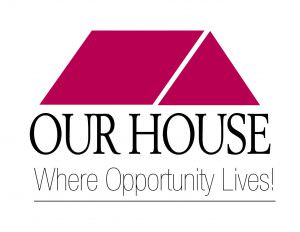 Since 1980, Our House, Inc. has done the important work of providing residential, employment and recreational services to individuals with developmental disabilities. Recognizing that people with development disabilities are outliving their parents and caregivers, Our House seeks to provide a community solution for those individuals by promoting a high quality of life, while still focusing on the need for flexibility in order to meet each person's unique needs. A strong emphasis is placed on enhancing community involvement and participation, which fosters meaningful connections to community life. The trained and caring staff are experts at encouraging individuals to make independent choices regarding their lives and offer additional support through the provision of community residences, employment opportunities, and various social programs.
Here are 5 things you should know about Our House, Inc. and what they do:
Our House, Inc. is an organization that serves approximately 250 adults with developmental disabilities, including autism.
As a non-profit, 501(c)3 organization, Our House, Inc. operates 38 residences in Essex, Union, Morris and Somerset counties.
In February 2017, Our House held a ribbon cutting for their first group home in Livingston, New Jersey
Their day program, Hope Autism Solutions, which already has two sites in Basking Ridge and one in New Providence, is expanding to Woodbridge and Bridgewater later this year. Hope Autism Solutions has become an increasingly popular choice because it fills a void within our communities and provides programming for adults to spend their days in meaningful ways such s volunteering, gaining job and life skills, or participating in recreational activities like yoga and Special Olympics practices.
On May 20, 2017, Our House Foundation will host the 18th Annual Our House 4 Mile Run and 2 Mile Walk on the Village Green in Summit, NJ. To run, walk or make a donation, visit www.ourhouseourrun.org.
There are so many amazing non-profit organizations serving the members of our communities along the MidTown Direct Train Lines. It is an honor for The Sue Adler Team to feature so many of these organizations through our 100th Home Sale Charity Program. We're humbled by the work that they do and we are proud to feature each one by providing more in-depth information about them and how they serve. The 2017 Sue Adler Team 100th Home Sale Charity Program is up and running and first round voting is well under way! We invite you to learn more about how our Team will give away $20,000 across 6 local charities upon the close of our 100th home sale of the year, and how YOU can decide which charity moves on to the final round of voting. Visit www.sueadler.com/100home to vote daily for your charity of choice, and the top 6 vote-getters will move on to the final round. To learn more about the Our House Foundation and the amazing work that they do, please visit www.ourhousenj.org.