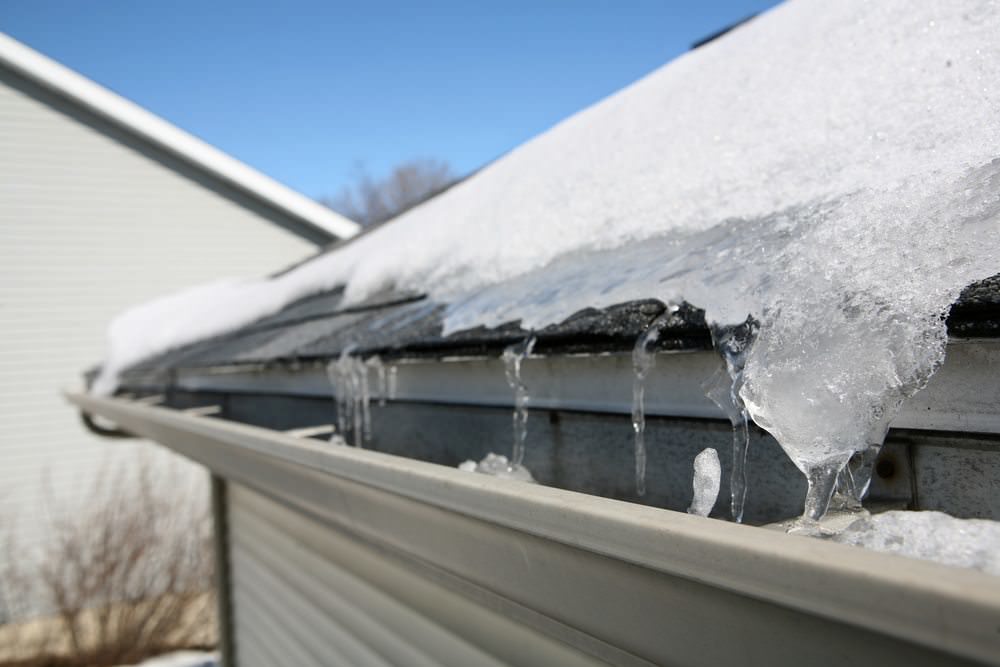 With this never-ending winter, we've seen more than our share of snow. And with the build-up of the white stuff on our roofs, a common problem for homeowners is the damage cause by ice dams.
What is an ice dam?
Ice dams form when melting snow on a roof runs off and refreezes at the edge of a roof. This condition occurs when the snow is melted by a warm roof, creating water running between the snow and the warm roof surface, then freezing and turning to ice when it gets past the exterior wall and hits a cold unheated roof edge or gutter. As the bottom of the snow pack continues to melt, water continues to flow down the roof surface until it hits the ice, thereby creating a larger and larger ice dam. If this situation continues, the ice can work its way back up the roof edge, get under shingles, melt and leak into the exterior wall, home or attic.
What damage can an ice dam do?
Once the water is deep enough, it penetrates the roofing system and creates water damage inside the home. Damage from ice dams may not be readily apparent. As the ice melts and possibly drips into the wall or attic, insulation can be become wet and lose its ability to perform. In some cases if the right temperature and humidity exist, mold may begin to grow in the attic. Often paint will peel or blister weeks or months after the ice dam has melted as moisture from the leak in the wall or ceiling cavities tries to leave and pushes outward. Uncorrected, the water can cause serious structural damage.
What steps can homeowners take to prevent damage from ice dams?
The most effective long term solution is to reduce or eliminate any sources of heat in the attic and ventilate the attic space of the roof. In addition, during and after a heavy snow, act fast with a roof rake. If you can rake your roof and remove at least the lower 4 feet of snow from the roof edge, you'll do a lot to prevent the ice dams from even forming. A roof rake is like a shovel that is turned on its side so that you can pull snow off the roof toward you. It has a long handle about 16 to 21 feet long, and is safer than many other approaches since you use the tool from the ground, not on a ladder. In addition, if you have an ice dam forming, one action you can take is to put a calcium chloride or similar product on the ice. (Forget any urban legends you may have heard about putting salt in pantyhose, it does not work well, takes a lot more salt and results in the pantyhose ripping apart). When you put the calcium chloride directly on the ice, be careful if you are on a ladder — icy conditions and ladder usage are not a good idea. Finally, if you end up with an ice dam and need it removed, you can always employ a professional. There are many companies that are insured and will remove your ice dam using professional equipment such as high pressure steam. Although this approach may cost a few hundred dollars, the prevention of damage to your home may be significant.

Thank you to Mr. Fix It and  Tom Feiza for the great article, check out the full article here.