72 Main St
Madison, NJ 07940
(973) 301-0024
http://www.ilmondovecchio.com/
About il Mondo Vecchio
il Mondo Vecchio is a classic Italian restaurant. This restaurant is BYOB, so while the prices are high, you won't end up spending major dough on a bottle of wine. Most people go here for celebrations or milestones, so this probably isn't the type of place most of us will visit on a weekly basis. Save il Mondo Vecchio for a dinner before the theater or visiting with family. The restaurant is quaint, but has an upscale feel.
What to Order
The menu has the dishes printed in Italian and English. That's a fun way to feel you're dining at a real Italian restaurant, even if it is the basic food you'd find at any Italian place. The butternut squash ravioli is great as an appetizer, but thanks to the sizable portion, it can double as an entree. Fried calamari and stuffed artichokes and mushrooms are also on the menu. If you're looking for a salad to kick off your meal, choose the arugula with mozzarella and tomatoes or spinach with pears and gorgonzola. You'll also get a nice basket of warm Italian bread with your meal.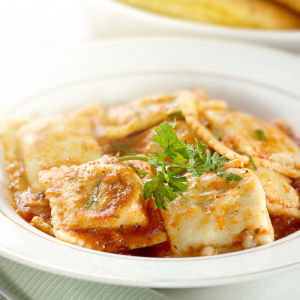 The lamb osso bucco with is served with risotto and root vegetables. Chicken and sausage are served with root vegetables. The porcini mushroom ravioli in black truffle sauce is light and delicious. It will especially be a treat for those who haven't had black truffle. The breaded veal is served with vegetables.There's also red snapper for those who want to taste an Italian spin on seafood.
Overall, il Mondo Vecchio is a very busy restaurant that has stayed in business because of their attentive service and fresh food. Reservations are a must on the weekends and remember that tables turn over quickly because of the crowds. Unlike many Italian restaurants where patrons are encouraged to eat a leisurely pace, il Mondo Vecchio does its best to take care of all of the clients they can in a given night. Because of this, service is constantly moving. This can sometimes make the meal feel rushed, but don't be afraid to take your time eating and make it clear to the waiter that you are enjoying yourself. If that's the worst thing they hear from a patron, what's the problem?
How Much?
il Mondo Vecchio is a BYOB restaurant. That said, the prices are still high and averages about $50 per person for dinner. This includes an appetizer, entree and dessert. Depending on how busy the restaurant is seems to determine the experience you'll have. Some reviewers complain that the dinner was too rushed, while others say they'd easily pay $50 per person again to dine at il Mondo Vecchio.
If it's your first time at il Mondo Vecchio, you may want to try the restaurant on a week night versus the weekend when the crowds are out in full force. There's plenty of parking in the back and the clientele is full of older couples and families who have made this restaurant their weekend spot for years.