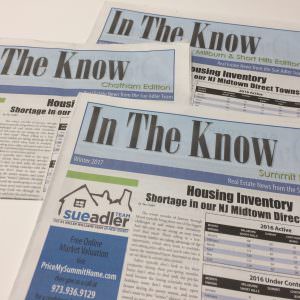 Extra, extra…read all about it—the Sue Adler Team has published our very first edition of "In The Know" and it hits local mailboxes this week!
Check out the digital Versions Here:
Featured articles in our first issue focus on:
Overwhelmed with the thought of selling your house? You don't have to navigate the process alone!
Selling your home to a builder
What the repeal of the New Jersey estate tax means for you
Home sale stats
Meet our buyers—is your home just what they're looking for?
Why you should head for the hills (The Hills Tavern, that is!)
And so much more!
The Sue Adler Team knows there's more to real estate than simply buying and selling a home; we know that people flock to our towns along the New Jersey Midtown Direct train line because they love the sense of community and connectedness that we share with our neighbors. Top-rated schools, excellent shopping and dining experiences, hometown business establishments, opportunities to serve with civic and nonprofit organizations—there are so many reasons why we love to live, work and play in these towns we call home. Our community spotlight section celebrates these reasons by shining the spotlight on local businesses and neighborhoods in every issue!
Come celebrate our newspaper launch tonight, March 7 between 5:30 and 7:30 at The Hills Tavern, 40 Main Street, Millburn, NJ. The Hills Tavern is helping us celebrate with a drink that bears our name—The Sue Adler Bubbly—a bubbly concoction of Prosecco and Amaretto garnished with a brandied cherry and served in champagne flute! This limited edition cocktail will be featured in the month of March and $1 per drink will be donated to St. Jude's Children's Hospital. And tonight, that drink is on us—our way of saying thanks to you for allowing us the opportunity to keep you "In The Know" about all that we know about our markets and our towns and to make a difference in your communities!