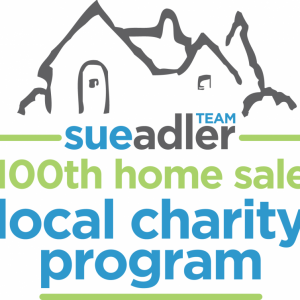 Last week, after going to contract on our 80th house in 2019, we kicked off our annual 100th Home Sale Charity Program.  For the fourth straight year, The Sue Adler Team is committing to give away $20,000 across six local charities. The charity receiving the most votes receives $10,000 at the close of our 100th closing of the year!  And like in past years, we are asking our customers and members of the communities we serve to decide the charities.
To start the process, over the next several days we will be taking nominations for local charities. If you would like to nominate your favorite, email us at info@sueadler.com. We are looking for some new names this year so that we can spread the love.  
Once the nominations are tallied, the first round of voting begins.
Last year, about 35,000 votes were cast and many voters put notifications on their phones and posted reminders to friends and family on social media platforms. Once the voting begins, you can vote once a day from either your computer or mobile device by going to www.sueadler.com/100th-home/ Click on the circle next to your favorite charity then scroll down and clicking "submit."
The spring market started early and closings are stacking up, so we anticipate reaching our 100th by late spring or early summer, much earlier than last year. So don't wait to vote!
We recognize that each and every one of our voters has a hand in making a difference.  We at the The Sue Adler Team, along with the participating non-profit organizations, are grateful to you — together we can make a difference in our communities!