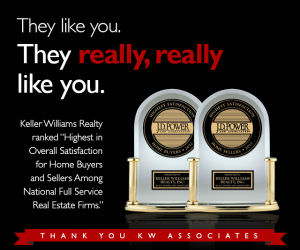 The news is out and it's official….J.D. Power and Associates released its 2012 Home Buyer/Seller Satisfaction Study ranking Keller Williams Realty, Inc. as the leader in both the home buyer and home seller segments resulting in the highest J.D. Power Circle rating among all its competitors.
J.D. Power and Associates is a global marketing information services company providing performance improvement, social media and customer satisfaction insights and solutions.  The company's quality and satisfaction measurements are based from millions of consumers annually.
The study, now in its fifth year, measures customer satisfaction amongst the largest national real estate companies within both the home buyer and seller segments.  To determine scores, the company examines three factors of the home buyer experience including agent/salesperson, office and other additional services available.  For the home seller segment factors are agent/salesperson, marketing, office and other varied services.
J.D. Power and Associates stated, "The uncertain economic times present a challenge for the real estate companies to really work closely with the customers and really hold their hand through the entire process to make them feel more comfortable in the decisions. Keller Williams has set itself apart by performing high in all the areas that are most important to customers specifically with the agent, the offices, and the services that they provide."
I am honored to be amongst peers whose commitment and dedication to service in our communities is always first and foremost.  Even in today's challenging real estate market, the Keller Williams family continues to put our customers first meeting and exceeding their every need.  The integrity and strides being made to stay one step ahead of the competition and keep doing better in both the buyer and seller markets is a source of pride for all involved in this dynamic company and a direct result of this recognition.  I am so proud to share this distinction with so many talented, hardworking people.
As we look forward to 2013, the Sue Adler team is planning ahead and looking at new ways to further surpass last year's goals by continuing to have a true command of our marketplace and a real understanding of the needs of all our clients.