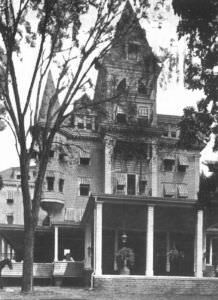 I received an inquiry on  a house in Summit, and my follow up led to a fascinating  trip down memory lane by Ken ( Cedric) Carpenter, who has  given me permission to share a little bit of   history with you so that you can imagine what it was like to live in Summit and Short Hills back in the day.
"My interest in 101 Hobart Ave in Summit was based on which house it was.  I was raised in 97 Hobart Ave.  My father was Dr Carpenter one of the founders of the Summit Medical Group in 1928.  Because I owned two Real Estate businesses in Union County in the 1980's and early 1990's my siblings asked me to see if I could find out information on 101 Hobart Ave.  While we lived in 97  the house located at 101 wqas owned by two families  the Shultz's who lived there until the mid 1940's and the Macy's who were living there at the time my parents built an new home and Moved to Short Hills.  My mothers family built the second house in Short Hills at the turn of the century  and sold it to the Whaleys shortly after the Stock Market Crash in 1928.
I will always remember Summit as a wonderful small town growing up.  A town where everyone knew everyone  back in those days.  We had a wonderful old wooden  Victorian Hotel in town called the Beechwood Hotel where women still in long dresses  were served afternoon tea by black butlers in white jackets and black pants It was torn down and Kemper Insurance built an office building on the property I attended Lincoln Grammer School across the street.  The Hunt Brothers Circus came to town every summer and set up their tents across from the YMCA  We always had parades with bands and drum majorettes partading down springfield Ave on the 4th of July  we had 2 movie theatres the Lyric and the Strand.  My mother  used to purchase her cloths at Miss Nellies store  Steam engins still carried commuters to Hoboken  Those were wonderful times to grow up in Summit  I was so lucky to have lived at that time  Oh  one more thing  97 and 101 Hobart Ave was built by a man (I do not know his name)  the two houses were built for his two spinster daughters  the homes were very similer. He lived across the street in a large white mansion which later became Miss Hoods Nursery School.  Ofcourse that house has also been torn down .  Before moving to 97 Hobart Ave  my parents owned a home for several years on Waldron Ave.
My sister who now lives in Maine has all the family photographs  all I have is memories.  the original Summit Medical Group was at 129 Summit Ave  then they built a new building across the street  my dad became ill and never practiced in that building.
I know I am rambling  but years ago I could ride my fancy Raleigh bike to the movies at the Strand (double feature) admission 25cents.  I could lay my bike down on the grass outside of the theatre…watch the movies…and my bike was still there when the movies got out….that would not happen today  LOL..also there were no Super markets  we had Charlie's Fsh Store  and Jim's butcher store that also sold some canned goods and produce.  Otherwise we had  farmers that would come to the houses selling fresh produce-  my mother used Eddie Kanickle. We also had Trost's Bakery and Zuzi's Soda Fontian and Ice cream store.
On Hobart Ave  there were three backyards that joined together –  ours  the Macy's and the Harold Graves on Whittridge Rd. (He was the president of the Summit Trust )  We all played as kids growing up. The Graves had one son Teddy,  the Macy's two daughters  Maryann and Mimi,  and my family  the Carpenter Twins  Bill and Dud.   I was called Kim and my sister is Betsy   I have another brother Dick but he grew up in Short Hills."
Photo of Beechwood Hotel courtesy of : http://www.amazon.com/Summit-Images-America-Patricia-Meola/dp/0738563307/ref=ntt_at_ep_dpt_1 Also a great resource if you'd like to know more about the history of Summit NJ!