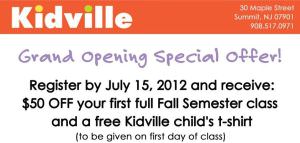 Looking for fun ways to entertain your kids?  In need of a hassle-free great birthday party idea?  Look no further Midtown Direct families – Kidville, an award-winning pioneer in the early childhood developmental classes and services industry, has come to Summit.  A fun and safe all-in-one destination for classes, play, parties, enrichment and lots more.  The perfect start to lifelong learning through positive experiences and healthy play.
Kidville is an extraordinary place for families with young children from babies up to 6 years old.  With classes in music, art, dance and gym all developed by a team of child development specialists, there's something that will delight every youngster.  What's more, register for any Kidville class and receive a free Silver membership.
And best of all, Kidville offers themed one-of-a kind birthday parties.  There's spectacular science, fairy princess, a superhero bash, musical adventure and art all planned and executed by the Kidville party staff.  This year, sit back and celebrate your child's dream party.
Kidville also offers a camp program with an amazing lineup of structured activities and special themed days all in the comfort of the new Summit facility.  It's a great way for the little ones to get a positive start to summer fun, meet new friends and foster growth.
Kidville also has a dynamic website with great tips, articles and resources about parenting.  So spread the word and let your friends know about Kidville Summit.
Stop by Kidville Summit's Grand Opening Party on July 7,8,14 and 15 from 10 am to 2 pm and take a look around.  There will be an open gym, art & crafts and much more!  Your kids will not want to leave.
For more information on Kidville and a listing of membership levels and additional benefits and pricing, visit their website.