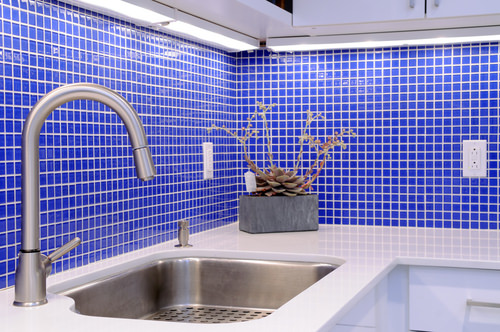 In a down economy folks are deciding to stay in their homes. Some are doing this by choice and others realize they aren't able to get what they want for their home, which means there's a trend towards home renovations. Anyone who's renovated a home knows it can be a headache, but the best thing is to have a plan and direction. This gives you and any contractors you're working with a clear idea of what the end result should be. This is a process that takes time, so refrain from rushing into decisions large or small. These are renovations that will be part of your home for a very long time and may be a selling point once you decide to sell.
Kitchen and bath remodels change the space
Kitchen and bathroom remodeling are the areas that are seeing the most growth in recent years. Whether they're big changes or a simple cosmetic lift, changing these two integral areas of any home can make a major difference in the overall look and feel of a house. Bathrooms are the spaces that have seen the biggest increase in remodeling. This may be because of the technological changes that have improved what a bathroom can be. Amazing touches like heated floors, ornate light fixtures or a hot tub can make a bathroom feel like an escape. You invest major money into relaxing at the spa or making that one trip to an exotic locale every year, so why not invest that money into glamming up your bathroom.
Plan the best colors for your remodel
Color has become a major part of renovations. This may be a coat of paint on a single wall for sudden impact or redoing the tiles of a kitchen counter for a Mediterranean look. Color is a fantastic way to change the vibe of a space and inject life into an area that's feeling tired and dreary. While you may be eager to use a neutral you know you'll always like, remember that for paint, it's easy to paint over a wall. Think of the new neutrals that are dominating interior trends such as cobalt, marigold and tangerine. These hues are surprisingly versatile and suit a myriad of themes within a space. The old school idea that painting a small room a bold shade will make it appear smaller is no longer the case. Even a small bathroom that's undergoing fixture changes can gain a lot from a bright color on the walls.
Bold fixtures provide a perfect accent
Bold fixtures are hot for both bathrooms and kitchens. Hefty steel and iron fixtures with clean lines and traditional shapes are where it's at for updating these spaces. The more frou frou fixtures have an outdated feel and anything that's too modern can look overdone as the years go on. After all, you want fixtures that are going to look good for several years and will suit many aesthetic tastes if you end up selling later down the road.
Be prepared for the inconvenience of remodeling. Whether you take on this task yourself or bring in contractors, remodeling is a commitment if you're getting a new tub or redoing cabinets. Know your budget and the duration of time you're willing to deal with remodeling.