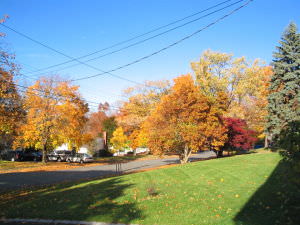 Livingston, New Jersey, is a township in Essex County.  It has a population of approximately 29,000 and is one of the larger communities in the area, covering just over 14 square miles.
Livingston is considered part of the New York Metropolitan Area.
Livingston Real Estate at a Glance
Much of Livingston's appeal is due to its close proximity to New York City.  It does not have a direct rail line to the city, although there are direct lines nearby.  This makes Livingston real estate more affordable than some of the other communities in the area.
Livingston has experienced much growth in the past few years, with new restaurants and business establishments in town.  Housing options in Livingston are diverse with everything ranging from single family homes, to 1940s colonials, to luxury estates on large properties.  There are also several condominiums and townhouses to choose from.
The township has become known as a great place to raise a family. Livingston has an excellent public school system that is consistently ranked high in the state.  It also boasts a lower than average crime rate for a town of its size.
Livingston History
Livingston has a lively history that dates back to the late 17th century when a group of Newark settlers purchased a parcel of land from the Lenni Lenape Native Americans.  For many years after the land was purchased there were disputes between the settlers and their British proprietors over property ownership.  In 1745, a fire destroyed the only written evidence a ownership of the land and caused a series of clashes with the British government that lasted for 10 years.  One of the settlers, a landed aristocrat named William Livingston, joined these settlers in the fight against the proprietors and government.
After the Revolutionary War, settlers began to establish more permanent roots in the area, and by 1813 the township was officially incorporated.  While several industries began to crop up in town including lumber and farming, the area saw slow growth due to its remote location.
The 1920s saw a rapid increase in growth of the region when automobiles became more popular.  Livingston developed as a suburb of Newark and more residential growth continued especially after World War II.
Livingston Economy
There are several companies that maintain headquarters in Livingston including:
CIT Group
Inteplast Group
The Briad Group
Verizon New Jersey customer service and support center
In addition, Livingston is home to the Saint Barnabas Medical Center, ranked the 13th best hospital in the United States by Modern Maturity Magazine.  It also ranks high for specialty care in Neurology, Neurosurgery, Kidney Disease, Oncology, Gynecology and Urology.
Livingston Attractions
Livingston has a large arts community and the Livingston Arts Association has been created to help promote arts in the area.  The town features many interesting historic sites and has over 470 acres of wooded parks with hiking trails.  Livingston has endeavored to preserve green space, and an additional 1,817 acres have been protected in its natural state without public access.
Livingston also contains three main shopping areas that offer residents everything from big-box retailers and chain stores to mom-and-pop restaurants and cafes.  Some of the interesting things to see and do in Livingston include:
Recreation and Attractions
Livingston Community Players
New Jersey Ballet
Livingston Town Center Gallery
Condit Family Cook House
Washington Place Schoolhouse
Becker Park
Livingston Public Library
Memorial Park
Haines Community Pool
Northland Community Pool
Cedar Hill Golf and Country Club
Shopping and Dining
Livingston Mall
Eppes Essen – Jewish style deli and restaurant
Livingston Diner
Nero's Grille – steak and seafood
Livingston Farmers' Market
Livingston Commuting Information
Livingston is easily accessed by several nearby major roadways including Interstate 280, Route 10, County Route 508, County Route 527, and the Eisenhower Parkway.  New Jersey Transit provides public bus service on routes 70, 71, 73, and the MCM-3.  Community Coach (Coach USA) also provides bus service to the Port Authority Bus Terminal in Midtown Manhattan.  The nearest airport is Newark Liberty International Airport which is about 25 minutes away by car.
More Information About Livingston Real Estate
To learn more about Livingston real estate CLICK HERE or reach out to one of my team members.  We are always here to help.