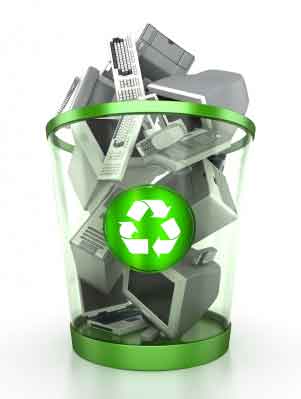 Keeping the beautiful township of Livingston free from waste just became a little easier.
On Sunday, March 23, the first 2014 electronics recycling and paper shredding event will be held at  the Livingston Senior/Community Center at 204 Hillside Avenue, from 9:00 a.m. to 2:00 p.m.
The recycling company, Newtech Recycling Inc., will provide personnel at the event to take the electronic items out of each resident's vehicle. For safety reasons, and to help move cars through the line, residents are asked to stay in their cars and drive slowly through the parking lot as their recyclables are removed from their cars.
Volunteers from the Recycling and Reclamation Committee, the Livingston Environmental Commission, and the National Science Honor Society will be on hand to answer questions and assist with the recycling and paper shredding processes.
Residents are encouraged to clean the memory from their phones and computer hard drives before recycling them. However, Newtech Recycling is R2 certified, which means they will swipe clean any memory and shred the hard drives.
Items to be accepted for Electronic and Small Appliance Recycling include: Computers (erase or remove hard drive if possible) and Components, Monitors, Flat Screens, Printers, Copiers, Fax Machines, Scanners, Speakers, Keyboards, Laptops, USB and Other Cables, Telephones, Televisions, VCRs, Stereos, Radios, DVD Players, Microwave Ovens, Toasters, Irons, Cell Phones (erase memory if possible), Pagers, Typewriters, Electronic Games, Portable Electronic Music Devices and PDA's, Diskettes, CD's and DVD's, Zip Disks, Audio and Video Tapes, ?Inkjet, Laser Printer and Fax Cartridges, and Rechargeable Batteries. Newtech Recycling Inc., will not collect the following items:  smoke detectors, CFL light bulbs, car batteries, or other household hazardous materials at this event.
Personal paper documents will also be shredded onsite and recycled by Atlantic Coast Fibers at Livingston's March 23 event from 9:00 a.m. to 2:00 p.m. There is a limit of five boxes per household of papers to be shredded. A monitor will be available so residents can observe that their papers are being shredded responsibly. Three-ring binders, paper clips, CDs, computer disks, pendaflex-type folders and other fastened documents cannot be accepted for shredding. Only residential shredding will be accepted—no home-based businesses or institutions will be allowed to participate.
In addition, the not-for-profit organization Cell Phones for Soldiers will be collecting any old, broken or unwanted cell phones, parts and accessories, including batteries, at the March 23 recycling event, which will be recycled for their metal parts. In return, soldiers serving in our armed forces will receive a calling card to call home worth up to an hour of calling time to call their loved ones. Tax donation receipts will also be available for those contributing items to Cell Phones for Soldiers. Residents are asked to separate their cell phones from other electronics prior to arrival.
For residents who have electronics to recycle but who cannot attend the March 23 event, the Recycling & Reclamation Committee is offering "early drop off" days at the lower level of the Senior/Community Center on Saturday, March 22, from 8:00 a.m. to 1:30 p.m. A cart located in the lower lobby of the building will be available for residents to use to bring their electronics to the designated Craft Room. Please note that Early Drop Off is only for electronics—there is no early drop off for paper shredding.
For further information, please call the Township Clerk's office at 973-992-5000 ext. #5405 or visit www.livingstonnj.org.
The Township's goal in sponsoring recycling events as part of the Livingston Living Green Initiative is to ensure that recyclable items do not go into the waste stream. Since the inception of the program in 2007, over 495 tons of electronics have been recycled, and more than 75 tons of confidential records have been shredded.