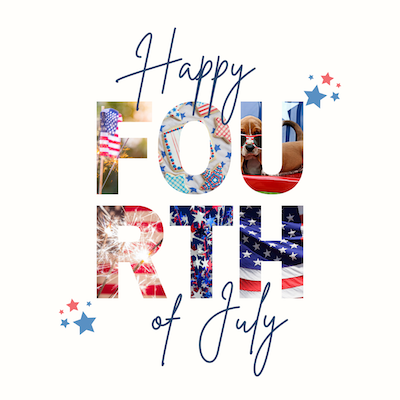 We are so excited that all the 4th of July activities are back this year after being modified or cancelled the last two year. We have all the fireworks shows, parades and festivals happening in and around our communities over the weekend. We are are wishing you all a safe and fun holiday weekend! Happy 4th of July!
Summit
The City of Summit's 75th annual Fourth of July celebration will take place on Monday, July 4, 2022, at Soldiers Memorial Field, located at 5 Myrtle Ave.
The event will begin with a flag raising ceremony at noon, followed by a decorated bicycle parade for children at 12:15PM. Entertainment will include concerts and a magic show, beginning at 1 p.m. and continuing until 9 p.m.
The event will conclude with a fireworks display beginning at 9:15p.m.
The schedule for the event is as follows:
• 12PM Food court opens
• 12PM Flag raising ceremony
• 12:15PM Decorated bike parade for children
• 12:45PM Announcement of bike parade winners
• 1PM Circus entertainment
• 2PM Magic show with Kevin Lane
• 3PM Live musical performance
• 5PM Luke and the Troublemakers in concert
• 7:30PM Daddy Pop in concert
• 9PM Lowering of the colors
• 9:15PM Fireworks
Chatham
On July 4, the Mayor and Council will raise the flag and inspect the fire department at the Borough Firehouse at 9:15 a.m. The parade will start at the intersection of Hillside Avenue and Main Street at 10:30 a.m. and will proceed down Main Street to Chatham Middle School.
On July 4 the fireworks will be held at the Chatham Middle School Field. The fireworks will begin around 9:30 p.m., or when it becomes dark, at 480 Main Street in Chatham Borough. The gates will open at 7 p.m., and the public is invited to enjoy musical entertainment by New Jersey's premier vintage rock and soul band, The Star Band, prior to the fireworks.
Millburn/Short Hills
Activities beginning 9 a.m. July 4 with flag raising and Patriot Award ceremony at Taylor Park, continuing with magician, children's DJ dance party, and "Millburn Fire Truck Experience"; gates opening 7 p.m. at Millburn High School, 462 Millburn Ave., for DJ and food trucks, culminating with fireworks at dusk. $10 for admission to evening fireworks.
New Providence
Fourth of July Fireworks, launched near South Street and visible from most locations in the borough, 9:30 p.m. July 3.
Westfield
Patriotic readings from the front porch, including Declaration of Independence recording by J.F. Kennedy, original Bill of Rights and Abraham Lincoln's second inaugural address, 10 a.m. July 4, Westfield Historical Society, Reeve History and Cultural Resource Center, 314 Mountain Ave.
Livingston
Annual Auto Fest at Livingston High School from 9 a.m. to 3 p.m. July 4, family activities beginning 10 a.m. at Memorial Park Oval, Robert Harp Drive, and 10 a.m. opening patriotic ceremony and Kiwanis Swim Carnival at Haines Pool, food trucks plus "beer and wine cafe" with live bands from 3:30 p.m. to 7:30 p.m.; main stage entertainment at 7:45 p.m. concluding with fireworks
Montclair
Fourth of July Parade and Picnic, march concluding at park with picnic, 11 a.m. July 4, Edgemont Memorial Park, Valley Road. montclairnjusa.org, 973-509-4914. Fourth of July Celebration, concert by the Infernos, concluding with fireworks, 7:30 p.m. July 1, Brookdale Park, Watchung Avenue.
Morristown
U.S. Army Field Band and Chorus,free concert, 7 p.m. June 30, Mayo Performing Arts Center, 100 South St. mayoarts.org, 973-539-8008. Reading of the Declaration of Independence, lighthearted presentation on the Declaration of Independence by park ranger in period clothing followed by formal reading and mock "feu de joie" musket salute, noon July 4, located at Morristown National Historical Park, 30 Washington Place.