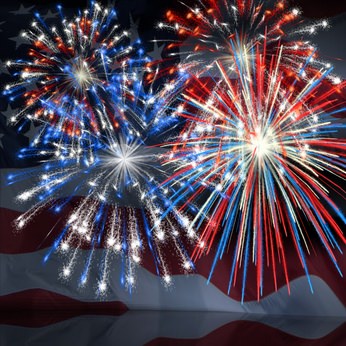 Our small towns pack a big bang when it comes to hosting America's birthday party – from traditional flag raising ceremonies to food truck festivals to car shows, baking contests and 5k runs – not to mention a full-blown circus! And that's all before the main event – explosive fireworks displays!
Here's your guide to some great local festivities happening over the July 4th Holiday, and the Sue Adler Team wishes all a happy and safe Fourth of July celebration!
Millburn/Short Hills: The celebration begins on the 4th at 9 am at Taylor Park with a flag raising, stroller parade and softball game; followed by rides, refreshments and music at Millburn High School at 3 pm. A $10 ticket will get you access to the afternoon activities. For more information, visit https://www.tapinto.net/towns/millburn-slash-short-hills/articles/full-day-of-july-4th-festivities-in-millburn-town
Summit: The City of Summit will host its 70th Annual Fourth of July Celebration on Tuesday at Soldiers Memorial Field (5 Myrtle Avenue). A Flag Raising Ceremony will kick off the day's events at 9:45. Morning activities run through 1pm and include a food truck festival, decorated bike parade, music, rides and amusements, and a softball game. The park then closes to set up for the evening activities, which begin at 6pm, where food trucks, rides and amusements will be up and running again, along with music, until the grand fireworks display begins at 9:15 pm.
Visit http://summitcommunityprograms.com/179/Fourth-of-July for more information.
Chatham: The Annual Fourth of July activities, once again hosted by the Chatham Fire Department Association, will begin on the morning of the 4th with a Flag Raising Ceremony and Fire Department Inspection at 9:15 am at the Borough Firehouse, followed by the annual parade beginning at 10:30. The parade procession begins at Hillside Avenue and Main Street and will proceed down Main Street toward the Chatham Middle School. The Fireworks display will happen at 9:30 pm at the Chatham Middle School; however the gates will open at 7pm and participants can take in some vintage rock and roll courtesy of the Bob Campanell Band, performing for the second year in a row! For more information, visit http://www.chathamborough.org/chatham/
Maplewood/South Orange: The Township's epic Fourth of July Celebration includes a car show, contests, live music, food and fireworks, all on the 4th. The day begins at 7 am with a 5k run, followed by a bike parade and Flag Ceremony in Ricalton Square in Maplewood Village, and from there, move to Maplewood's Memorial Park. Park entrance is with wristbands only beginning at 10 am, and can be purchased for $12 for the day, plus an additional $5 for access to the Circus. Group discounts are available in advance of the event. Visit www.maplewoodcivic.org for more information. Activities happen all day and include a baking contest for all ages, face painting, be your own dj event, ice cream eating contests, karaoke, kids' percussion, robotics club demonstrations, pet awards show, food court, vendors, amusements, and dunk tank fundraiser to benefit the Rescue Squad. As in past years, the Zerbini Family Circus performs under the Big Top, rain or shine, at 1, 3:30 and 6pm. This is an old-fashioned, traditional circus with acrobats, juggling, clowns, and dog and pony shows. Concessions, pony and camel rides are also part of the yearly celebration! Closing out the day's festivities will be a dazzling fireworks display beginning at 9:15pm. For event times and information, visit www.maplewoodcivic.org.
Livingston: July 4 activities, held at Memorial Oval on South Livingston Avenue, begin at 8:30 am with a classic car show and run all day until fireworks just after 9 pm. Additional activities include food vendors, live music, pony rides, pickle ball, cricket game, mini golf and connect four! To see more about the day's events, visit
http://livingstontownship.org/sylsprograms/wp-content/uploads/2013/07/July-4-2017-Program.pdf
Morristown: Morristown Green will be the location for the annual reading of the Declaration of Independence, which will happen at noon on July 4th, along with music, musket salute and free tours of the Presbyterian Church's sanctuary and Colonial-era graveyard. On July 2-4, the Morristown National Historical Park will be open with free admission from 9:30-5 each day, and on July 2, the Morristown National Historical Park will offer free concerts at 1 pm and 3 pm at Washington's Headquarters located at 30 Washington Place, where the Old Barracks Fife and Drum Corps will perform. Please visit http://www.dailyrecord.com/story/news/2017/06/28/fourth-july-activities-morris-county/103254132/ for additional information.
Florham Park: A Flag Raising Ceremony held at Firehouse 1 on Brooklake Road will begin at 9 am on the Fourth of July, kicking off the holiday celebration! At 9:30, a parade will take place, rain or shine, beginning at Ridgedale Avenue and Brooklake Road, followed by a picnic held at the Borough Hall lawn from 10:30-3. A beer garden will be open from noon-3pm. Live music will be a part of the day's activities and they will close out with additional entertainment beginning at 8:15, followed by fireworks at dusk. Visit http://www.dailyrecord.com/story/news/2017/06/28/fourth-july-activities-morris-county/103254132/ for more information.
New Providence: On Monday, July 3rd, New Providence will hold it's Independence Day Celebration. The event, held on South Street from Gales Drive to Springfield Avenue, will include fun activities for all beginning at 7 pm. Live music and chalk art on the streets (free buckets of chalk for the kids!) are just some of the highlights! Fireworks will be displayed at approximately 9:30 pm. Visit http://www.newprovbiz.com/calendar/independence-day/ for more information,
Bridgewater: The Somerset County Parks Commission will once again host the Independence Day Family Festival on July 4th. Come out for food, fireworks and fun at this free event held from 6-10 pm at North Branch Park. Included in the day's events will be a Revolutionary War encampment re-creating life during the 1770s. Fireworks will begin around 9:30 pm. For more information, please visit https://patch.com/new-jersey/bridgewater/bridgewater-july-4th-celebration-fireworks-2017