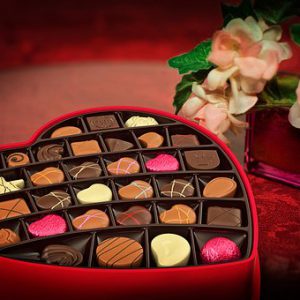 Chocolate has a very long history. Evidence suggests that the cacao bean, which is the source of chocolate, was cultivated in Central America as far back as three to four millennia ago.  Prized for its reputation as a mood enhancer and aphrodisiac, the Mayans and Aztecs both believed that chocolate possessed divine or mystical properties and used it in ancient sacred rituals. Europeans explorers eventually brought the beans to Europe, where fortunately for modern-day chocolate lovers, someone decided to sweeten the bitter bean paste with sugar, making it more palatable. During the early 19th century, the cocoa press was invented, leading to the creation of solid chocolate and revolutionizing the chocolate industry. By the mid-19th century, the first chocolate bar was sold.
It shouldn't come as a surprise that chocolate is associated with Valentine's Day.  After all, love is a mystical thing.  So if you are looking this Valentine's Day to express how much you love that special person in your life, here are a few local chocolatier's to visit:
Enjou Chocolat, Morristown – In business for over 30 years, Enjou Chocolat makes some of the most delectable, charming and distinctive chocolate creations in New Jersey. While known for their edible chocolate high heeled shoe filled with assorted truffles, with over 50,000 molds, Enjou makes it possible for you to design the perfect chocolate gift for your partner.
K & C Candy, Summit – Tempered by hand and crafted with all natural flavors, K & C chocolate's blend their own chocolate beginning with 72% dark and white fair-trade Belgian chocolate, which is then used to create artisanal chocolates such as strawberries and milk, rose in dark, s'mores, mango ganache and their newest flavor black current dipped in white chocolate.  Can't get there in time for Valentine's Day?  Don't fret, they deliver!
Vanillamoore, Montclair – Looking for a little something different? You may want to try this cool dessert bistro where you can pick up a bunch of sweet gifts, including a trio of s'mores bars, chocolate covered hazelnuts and chocolate "salami", which as its name suggests, is a luscious chocolate in the shape of salami. If you have time, reserve a table and try Vanilla or Chocolate 'Charcuterie', which includes Dark, Milk or Vanilla Bean Chocolate "Salamis"  fully equipped with Banana Bread, Chocolate Shortbread, Olive Oil Cake / Candied Orange,  Red Wine Cherries / Espresso Caramel, Coffee Hazelnut Mousse and much more.
MarieBelle Chocolates, Neiman Marcus – These chocolates are so beautiful you may want to put them on your shelf instead of eating them. Just as mouth watering as they are beautiful, each bite sized "ganache" is  coated in pure dark chocolate before receiving its signature cocoa-based design.  Their chocolate designs are all "paintings" created by artisanal, culinary artists with each telling its own story.
2 Chicks with Chocolate, Metuchen – Owned by a mother-daughter duo, 2 Chicks with Chocolate makes handcrafted artisan confections that are touted as "a box of bliss" by Gourmet Magazine.  The spicy merlot bon bons and cabernet caramels that come in a wine bottle-shaped box are a must try!
Godiva Chocolatier, Short Hills – This veteran chain is a tried and true favorite since 1926.  With a location in the Short Hills Mall, Godiva Chocolatier offerings run the gamut from decadent dark chocolate truffles and milk covered dipped strawberries to patisserie dessert truffles and blonde chocolate salted caramel.
If you commute into the city we added a few faves in Manhattan:
Kee's Chocolates – This international chocolatier uses ingredients from around the world, including yuzu from Japan, sea salt from France, and saffron from Spain. Creamy, delightful bon bons and hand rolled confections are made fresh daily at this small shop in Time Square.
Li-Lac Chocolates – Opened in 1923, this chocolate house is Manhattan's oldest chocolatier. Li-Lac offers chocolates in memorable shapes, including a life size handbag, make-up compact or high heel shoes.  They also offer delicious hand rolled truffles and creme rolls, artisanal chocolate bars and glaze dried fruit.
MarieBelle Chocolates –If you can't make it to Neiman Marcus, and you work in Manhattan, stop by their one and only location on Broome Street and pick up a box of these gorgeous chocolates. They also deliver within New York City.