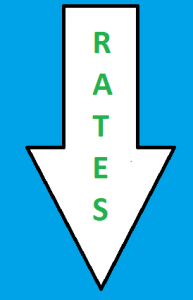 I've been in the business since 1983, when the interest rates were about 14% and on their way down.  Since that time, I've seen fluctuations in home prices, lending practices, mortgage rates and so much more!  I don't remember ever seeing the stars lined up so perfectly for qualified New Jersey buyers.  If you are interested in financing a  midtown direct home in New Jersey, take note of the following current rates.
As of Sunday, November 6th, 30 year home loan rates are averaging 4.08% and 15 year home loans are averaging 3.37%.  30 year jumbo home mortgage loans are down as well, averaging 4.49% and 3.73% for a 15 year loan.  3 and 5 year conforming adjustable rates are down as well, and 7 and 10 year rates have remained stable, while 1 year conforming adjustable rates have seen a slight increase.
These rates allow more buying power for clients interested in our New Jersey homes, while rental prices continue to rise.
In this fall market, prices are down further in our Midtown Direct Train Line Towns than they are in the spring because there is less competition at this time of year. As a matter of fact, every house I've ever bought has been in the fall market. That happens to be a coincidence, but I CAN say that I would have paid more for my houses if I had waited for spring.
My point is,  the smart buyers are actively looking for homes and making offers because they see that this is opportunity time.   I don't want to mislead you into thinking you can buy ANY house at ANY price because this is not the case, but if a seller is realistic and motivated to sell the house that YOU happen to like, then you will do better now, then you will in the spring when there are more buyers competing for the nicer houses.
Remember, a house is not just a financial investment. It's a lifestyle investment for your family – schools, neighborhood, where you make your memories, so if you can find that now, with these low interest rates, and know that you will  live there for 5 or more years, then let's sit down for a consultation and see if buying now makes sense for you.