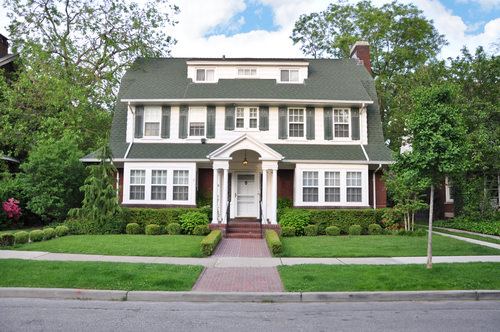 Madison luxury homes and estates are in abundance in this Morris County, New Jersey, town.  Part of the Newark metro area, Madison has a population of approximately 16,000.  It is located about 25 miles from New York City making it a perfect location for commuters.  Madison is sometimes referred to as "Rose City", an homage to its early days as the seat of the local rose industry.
Madison Luxury Homes and Estates
If you're in the market for a luxury home or estate in Madison, you'll have many options.  Madison is home to a large number of colonial style properties on tree-lined streets that add a sense of affluence to the community.  In addition, Morris County has significantly lower property taxes than homes in neighboring Essex County.
Madison Schools
There are three public elementary schools located in Madison:
Kings Road
Central Avenue
Torey J. Sabatini
The community is served by one middle school, Madison Junior School, and one high school, Madison High School.  Madison public schools are known for their diverse educational programs including clubs and interscholastic sports.
Madison also has one private school, Saint Vincent Martyr Parish.  It is a Catholic parochial school that serves students in grades Pre-K through seven.
There are two universities located in Madison.  Drew University has a student population of about 2,500 and is based on a 186 acre wooded campus.  Fairleigh Dickinson University is an internationally renowned research university with about 2,400 undergraduates.
Madison Transportation and Commuting
NJ Transit provides train service to Madison via Midtown Direct on the Morristown branch of the Morris and Essex Line, and commuters can reach New York Penn Station in about 50 minutes.  Madison is easily accessed by Route 24, Route 287, I-78, the New Jersey Turnpike and the Garden State Parkway.  Other nearby public transportation options are the Ferry, the Lakeland Bus and the Community Coach with service to New York City or Atlantic City.  Newark Liberty International Airport is about 25 minutes away by car.
Madison Attractions
With two universities in town, Madison has an abundance of cultural and recreational attractions.  Some highlights include:
Holloway Hall
Shakespeare Garden
Community recreation facilities including tennis, baseball, softball, trails, ice skating, football, soccer, basketball, lacrosse, hockey, swimming, track and field and much more.
Madison Shopping and Dining
Madison has a charming town center with many tantalizing restaurants.  Some notable eateries include:
Soho 33
Rose City Grille
Begum Palace
Romanellis
Madison features a historic business district that is home to many mom and pop shops selling gifts, clothes, accessories, vintage items and more.  There is also a business district east of the historic district that is home to big box stores and car dealerships.
More Information About Madison
For more information on Madison NJ homes CLICK HERE or call a member of my team.  We're always here to help!