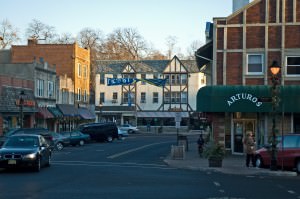 Maplewood, New Jersey, is a charming town located in Essex County.  Due to its close proximity to midtown Manhattan, Maplewood is considered a commuter town with a current population of just under 24,000.  Residents are attracted to the diverse population, quaintness of the town center and family-friendly atmosphere.  It is often ranked as one of the most desirable places to live in the United States.
Maplewood Real Estate at a Glance
The township of Maplewood is a small community, covering a total area of just 3.879 square miles.  Maplewood features several recognizable buildings and public spaces that were designed and built by famous architects and designers.  Among them are Maplewood's schools designed by Guilbert & Betelle.  The Olmstead Brothers were responsible for the design of Memorial Park in the center of town, Winchester Gardens at Ward Homestead and the South Mountain Reservation.
Many of the homes in Maplewood retain their historic charm with styles including 1920 Victorians  and Colonials.  In addition, there are some condo developments.  The town is known for its diversity, with a great mix of people from all different cultures and backgrounds.  Maplewood also boasts a significant intellectual and artistic community, with many artists who have relocated from Manhattan.
Maplewood shares a school district with South Orange.  Schools in the district consistently earn high marks in the state for academic excellence.
Maplewood History
Today's city thoroughfares were originally created by the Lenape tribe of the Algonquian Native Americans who first settled the area.  The land was later purchased by European settlers who began arriving in the late 17th century.  A village was soon founded on what is now the downtown area of Maplewood, then known as Jefferson Village after Thomas Jefferson.
In 1861, Maplewood was formed under the name of South Orange Township.  It wasn't until 1922 that Maplewood got its current name.  During this time, the town saw significant growth as farms were divided to make room for more residential housing, growing into the suburban community that residents know today.
Maplewood Attractions
With such a diverse population, there are many things to see and do in Maplewood.  The city has a downtown area popularly known as "the Village" or sometimes "Maplewood Center," where residents can shop and eat at the many small boutique and quaint restaurants.  Other cultural attractions, recreational activities, seasonal events and festival, shopping centers and dining options found in Maplewood include:
Attractions and Recreation
Maplewoodstock annual free summer concert
Annual Artist's Tour
New Year's Eve First Night
What Exit? Theatre Company
Village Dance Academy
Maplewood Glee Club
Maplewood Movie Theatre
South Mountain Reservation, a 2,000 acre nature preserve
Memorial Park with playing fields and picnic areas
Borden Park
Orchard Park
Community Pool
Maplewood Garden Club
Shopping and Dining
Maplewood Commuting Information
Maplewood is an excellent community for those traveling to work in Manhattan as it lies approximately 30 minutes away.  The area is easily accessed by several major roads including Route 24, Route 280, I-78, the New Jersey Turnpike and the Garden State Parkway.  Commuter rail service is provided by New Jersey Transit via the Midtown Direct Line which takes passengers straight into New York Penn Station. The nearest airport is Newark Liberty International Airport, which is approximately 20 minutes away by car.
More Information About Maplewood Real Estate
To learn more about Maplewood real estate CLICK HERE to speak with Sue Adler or a member of my team.  We are yours to count on….