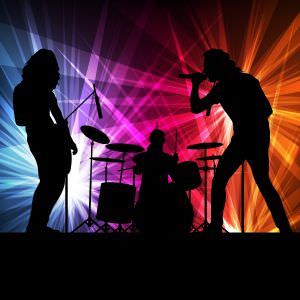 Kids Rock for New Eyes
On Saturday, March 14, Kids Rock will perform a benefit concert for New Eyes for the Needy. Composed of the area's best teenage musicians, Kids Rock will play classic rock as a fundraiser for New Eyes' new prescription eyeglass program for children in the United States. Roxy and Duke's Roadhouse (745 Bound Brook Rd. in Dunellen, NJ) will host the show, from 2 pm – 4pm.   Kids Rock tickets are $20. They are available at the door or may be purchased in advance by contacting New Eyes at 973-376-4903.
Youth Art Month
It's March, which means it is Youth Art Month, a national program that supports art and art education for all children. On Thursday, March 19, between 6:30 and 8 p.m., the Millburn School District will celebrate the occasion with a student art exhibition and a ceremony for the winners of Scholastic Art and Writing Awards.
This year's theme, "Art Builds Bridges," will be on display in Millburn High School during the event. Over 200 pieces will be on display, representing the school district's artists in grades K-12, and will show work from all corners of the district's art curriculum, including Architecture, Fine Arts, Crafts, Dance, Digital Arts, and Music.
All art lovers are invited!
More information about Youth Art Month from the Council for Art Education can be found here: www.arteducators.org/news/yam
Art lovers are also invited to the Scholastic Award Winners Exhibit at Millburn High School auditorium on Monday, March 16. The show will feature work by the winners of the 2015 Northern NJ Scholastic Art and Writing Awards, as well as a presentation to recognize their achievements. The exhibit opens at 6 p.m. with the presentation at 7 p.m.
Millburn- Short Hills Chamber of Commerce to Host "Make a Splash Soiree"
On Friday, March 20, the Millburn-Short Hills Chamber of Commerce invites members, business friends, and town residents to attend its "Make a Splash Soiree" at the Hilton Short Hills. The party begins at 6 p.m. with a cocktail hour and hors d'oeuvres, and continues from 7 to 9 p.m. with a delectable menu of small plates and a variety of food stations. Jazz pianist Matt King will accompany the evening festivities, and comedian Rob Falcone will give a performance. A silent auction with many items from local merchants and entertainment venues will also take place. The cost is $99 per person. Space is limited and reservations are going quickly so RSVP by March 17 to (973) 379-1198 or [email protected].
Millburn Firefighters Host Gumbo Cook-off
On Saturday, March 21, Millburn firefighters and Mayor Robert Tillotson will show off their culinary skills in a head-to-head gumbo cook-off, in order to help promote brain injury awareness. Come to the Millburn Fire Department, 459 Essex St., at 6:30 pm, to enjoy a dinner buffet with a kid friendly menu. Tickets are $25 per person and must be purchased in advance. The event is sponsored by Investors Bank. For more information, contact Amy Sigona, Development Director at 973-921-1000 x 105 or by email at [email protected]